Transition Timetable For Burkina Faso
An "eminent national personality" will lead the transition.
Burkina Faso: Talks Set Transition Timetable

Deutsche Welle, 6 November 2014

Negotiators in Burkina Faso have issued a statement pledging elections in 2015 and an "eminent civilian personality" to lead the transition. Three African presidents had visited to… Read more »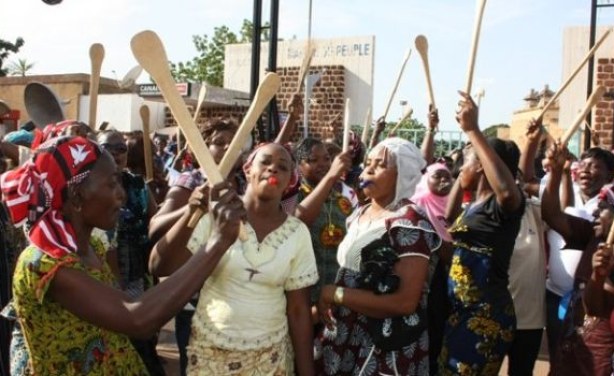 Women manifesting in Ouagadougou (file photo).
Burkina Faso: Burkina Faso's Reluctant Opposition

Deutsche Welle, 4 November 2014

Unpopular President Blaise Compaore has fled the country, but the opposition lacks a vision for Burkina Faso's future. Civil society activists appear to offer the best hope of… Read more »

Burkina Faso: West Africa's Arab Spring?

ISS, 5 November 2014

The dramatic ousting of former president Blaise Compaoré by popular uprising in Burkina Faso last week, and the speed with which it happened, caught some observers by… Read more »

Burkina Faso: Compaore Is Gone What Next?

Foroyaa, 5 November 2014

In another three years, Compaore would have been in office for three decades. Even two decades is too much for a person to be at the helm of a Republic. What more could a person… Read more »

Nigeria: Jonathan, Others Arrive in Ouagadougou for Crisis Talks

Vanguard, 5 November 2014

President Goodluck Jonathan has arrived in Ouagadougou, the capital of Burkina Faso, for talks aimed at quickening the resolution of the current political crisis in that country. Read more »

Burkina Faso: China Calls for Order in Burkina Faso

Focac, 5 November 2014

China called on all parties in the West African country of Burkina Faso to resolve disputes through dialogue and consultation to restore order soon following volatility in the… Read more »

Burkina Faso: Where Democracy Has Always Run on Protests and Coups

The Conversation Africa, 4 November 2014

By Maggie Dwyer, University of Edinburgh Read more »

South Africa: Beau Blaise - the Peacebroker or Warmonger of Burkina Faso?

The Daily Vox, 6 November 2014

Over the past decade, France, in furtherance of its neo-colonial aspirations in West Africa, has portrayed Blaise Compaore, the recently-deposed president of Burkina Faso, as the… Read more »

Burkina Faso: UN-African Union Mission Encouraged By Commitment to Restore Order

UN News, 4 November 2014

Reiterating his great concern for the current crisis in Burkina Faso and its impact on national and regional stability, Secretary-General Ban Ki-Moon said the joint United Nations… Read more »
InFocus
Army leaders in Ouagadougou announced that Lieutenant-Colonel Yacouba Issaac Zida will run the country during a transitional period, as former president Blaise Compaore and his ... Read more »

Another military officer, Isaac Zida, has announced he is assuming responsibility as the country's head of state. Read more »