Ebola Vaccine Results Give Hope
Experts caution that the vaccine is still a long way from use in the field and that no announcement on larger-scale trials is expected.
Africa: Ebola Vaccine Results Give Hope

Deutsche Welle, 27 November 2014

Ebola vaccine researchers say they are 'encouraged' by the results of an initial clinical trial, in which volunteers developed antibodies needed to fight the virus. But the end… Read more »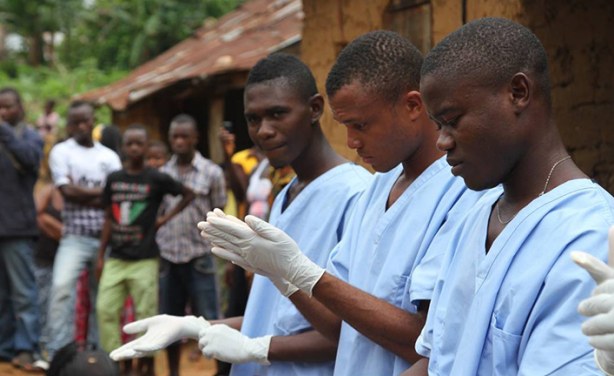 Volunteers work with the Red Cross to prevent and treat Ebola cases.
Kenya: Why We Might Have Ebola Vaccine Next Year

The Star, 17 November 2014

Giant drugs maker GSK might produce world's first Ebola vaccine next year. Dr Moses Alobo, GSK's medical director in East Africa, discusses the progress with Star's John Muchangi. Read more »

Africa: Nigeria to Begin Ebola Vaccine Trial

Guardian, 10 November 2014

THE Supervising Minister of Health, Dr. Khaliru Alhassan, Monday disclosed that Nigeria is set to follow internationally-approved protocols to commence clinical trial of Ebola… Read more »

West Africa: African Regulators Agree to Expedite Approval of Vaccines, Therapies for Ebola

Guardian, 9 November 2014

- Another strain of virus discovered in Congo, death toll rises to 4,950 with 13, 241 cases Read more »

West Africa: Ebola - UN Chief Hails Progress in Fight Against Virus, Urges Intensified Response

UN News, 9 November 2014

The world is on the "right track" to defeating Ebola as the infection rate of the deadly virus shows some signs of slowing in West Africa's most affected areas, United Nations… Read more »

West Africa: UN Sets Date for Bringing Ebola Under Control

UN News, 7 November 2014

The United Nations health agency today announced a new burial protocol for Ebola victims aimed at reducing the risk of exposure to the disease for family members as they bury their… Read more »

Nigeria: Ebola - Who Flays Pharmaceutical Companies Over Delay in Finding Cure, Vaccines

This Day, 7 November 2014

The World Health Organisation (WHO) on Thursday took a swipe at pharmaceutical companies over the delay in producing a reliable cure and vaccine for the contagious Ebola Virus… Read more »

West Africa: Ebola - WHO Blasts Pharmaceutical Companies Over Delay in Cure, Vaccines

This Day, 6 November 2014

Nigeria shares success story Read more »

Nigeria: WHO Berates Drug Industry Over Ebola Vaccine Development

Guardian, 6 November 2014

THE World Health Organization (WHO) has castigated the pharmaceutical industry for failing to develop a vaccine for Ebola over the some 40 years that the virus has threatened West… Read more »
InFocus
Trials at Switzerland's Lausanne University Hospital, with the support of the World Health Organisation, will begin this week. Read more »

The French assistant director-general of the World Health Organisation, Dr Marie-Paul Kieny, has announced that the organisation hopes to begin vaccine trials in early 2015. Read more »

The World Health Organization is convening a major meeting of nearly 200 experts in Switzerland to discuss possible cures and vaccines for the deadly Ebola virus. Read more »