Liberia Hosts Regional Ebola Conference
The meeting brought together leaders on the Ebola response from affected countries.
Liberia: Liberia Hosts Regional Ebola Confab

NEWS, 11 December 2014

President Ellen Johnson Sirleaf says Ebola will not derail the determination of affected African countries to make progress in developing their respective nations. Read more »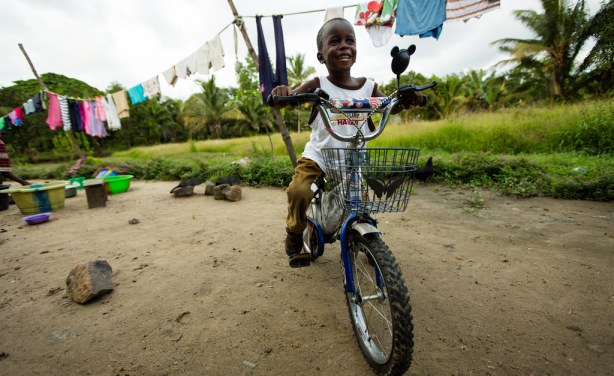 Six-year-old Ebola survivor Patrick Poopei rides his bike in Monrovia.
West Africa: Ebola Goals Met in Guinea, Liberia - Sierra Leone Close

Deutsche Welle, 1 December 2014

According to the World Health Organization, Liberia and Guinea have met a target for preventing Ebola's spread. The WHO's assistant director-general says Sierra Leone has fallen… Read more »

West Africa: Ebola - 'We Are Seeing the Curve Bending in Enough Places to Give Us Hope,' Says Ban

UN News, 21 November 2014

Secretary-General Ban Ki-moon today said that by continuing to scale up the global fight against Ebola, there is hope the outbreak could be contained by mid-2015, but he emphasized… Read more »

Liberia: Sirleaf Speaks On Impact of Ebola

New Dawn, 13 October 2014

President Ellen Johnson-Sirleaf has joined her colleagues, Drs. Alpha Conde of Guinea and Ernest Bai Koroma of Sierra Leone in outlining measures that must be urgently taken to… Read more »

Africa: How Africa is Losing the Ebola Battle - Amadou Mahtar Ba

allAfrica, 31 August 2014

A combination of fear of the Ebola virus, weak public infrastructures in three of the world's poorest countries, and a slow response by the international public health community… Read more »

West Africa: Ministers Meet On Ebola Crisis

Deutsche Welle, 2 July 2014

Health ministers and officials from 11 West African countries are in the Ghanaian capital Accra for a two-day meeting on the Ebola epidemic which has killed scores of people in… Read more »

Africa: Health Ministers Meet to Address Ebola Outbreak

VOA, 2 July 2014

Health ministers from 11 African nations are meeting Wednesday in Ghana to discuss how they should respond to the deadliest ever outbreak of Ebola. Read more »
InFocus
Health authorities say the continued denial of the existence of Ebola and unsafe burials are driving up infections. Read more »

President Ellen Johnson Sirleaf has said the country is now beyond the "Ebola is Real" theme. "Now we must highlight that 'Ebola Must Go' ". Read more »

Dr. Peter Piot has accused the United Nations health agency of drastically underestimating the scope of the outbreak. Read more »