Nigerian Court Strikes Down Eligibility Suit Against Jonathan
The suit was based on the argument that President Goodluck Jonathan had taken the oath of office twice, and was by law ineligible for a third, should he win.
Nigeria: Interim National Government - Plot to Stop Jonathan's Re - Election, Says Sani Abacha's Son

Vanguard, 19 February 2015

ABUJA-FORMER Ministers, Ambassadors, son of late Head of State, General Sani Abacha, Mohammed Abacha under the aegis, National Solidarity Alliance, NASA yesterday described the… Read more »

Nigeria: Presidential Poll - Court Strikes Out Suit Challenging Jonathan's Eligibility

Vanguard, 12 February 2015

ABUJA--The Federal High Court sitting in Abuja, yesterday, struck out the suit challenging the eligibility of President Goodluck Jonathan to contest the forthcoming presidential… Read more »

Nigeria: Eligibility - Court Strikes Out Suit Against Jonathan

Daily Trust, 12 February 2015

A Federal High Court in Abuja has struck out the suit by four senior citizens seeking to disqualify President Goodluck Jonathan from the 2015 presidential election. Read more »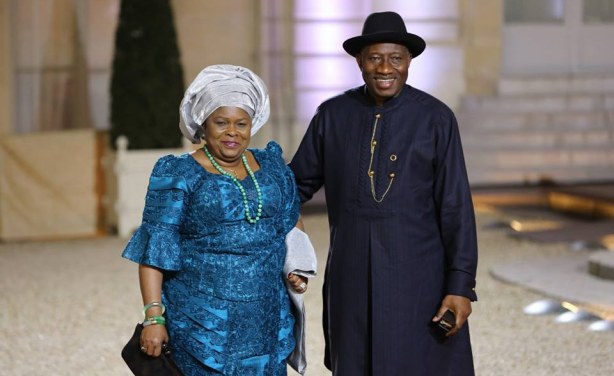 First Lady Patience Jonathan and Goodluck Jonathan (file photo).
Nigeria: Court Affirms Jonathan's Eligibility for 2015 Election

Premium Times, 11 February 2015

A Federal High Court in Abuja has struck out a suit seeking the disqualification of President Goodluck Jonathan from contesting the 2015 presidential election. Read more »

Nigeria: I'll Go Happily If I'm Not Re-Elected - Jonathan

Premium Times, 11 February 2015

President Goodluck Jonathan assured Wednesday he will hand over power May 29 if he loses the forthcoming presidential polls billed for March 28. Read more »

Nigeria: Court Strikes Out Suit Against Goodluck Jonathan's Eligibility

Guardian, 11 February 2015

SEQUEL to its withdrawal, the Federal High Court, Abuja Division, Wednesday struck out the suit challenging the eligibility of President Goodluck Jonathan to contest the… Read more »

Nigeria: Court Strikes Out Suit Against Jonathan's Eligibility

Leadership, 12 February 2015

Justice Ahmed Mohammed, of a Federal High Court sitting in Abuja, yesterday struck out one of the suits challenging the eligibility of the presidential candidate of the Peoples… Read more »

Nigeria: Election - Court Strikes Out Suit Challenging Jonathan's Eligibility

Vanguard, 11 February 2015

The Federal High Court sitting in Abuja, Wednesday, struck out the suit challenging the eligibility of President Goodluck Jonathan to contest the forthcoming presidential election. Read more »

Nigeria: Court Strikes Out Suit Challenging Jonathan's Eligibility for Election

Premium Times, 11 February 2015

A Federal High Court in Abuja on Wednesday struck out a case challenging the eligibility of President Goodluck Jonathan for the 2015 election, after four plaintiffs who filed the… Read more »

Nigeria: Court Strikes Out Suit Seeking Jonathan's Disqualification

This Day, 12 February 2015

The Comptroller General of Immigration Service (CGI), David Parradang, has announced the seizure of some voters and National Identity cards from some foreigners in a renewed… Read more »

Nigeria: Appeal Court Hears Case Challenging Jonathan's Eligibility to Contest

Guardian, 9 February 2015

THE Federal High Court, Abuja Division Monday referred to the Court of Appeal, Abuja Division to decide whether or not President Goodluck Ebele Jonathan was eligible to contest the… Read more »

Nigeria: Court Refers Jonathan's Eligibility Suit to Court of Appeal

This Day, 9 February 2015

‎A Federal High Court in Abuja has referred to the Court of Appeal the determination of whether or not President Goodluck Jonathan was eligible to contest the next presidential… Read more »

Nigeria: Supreme Court Dismisses Appeal Seeking to Join Jonathan's Eligibility Suit

This Day, 10 February 2015

The Supreme Court on Monday dismissed the appeal filed by a chieftain of the Peoples Democratic Party (PDP), Dr. Umar Ardo, challenging the decision of the Court of Appeal, which… Read more »

Nigeria: 2015 Poll - PDP Moves to Defend Jonathan's Eligibility in Court

Daily Trust, 3 February 2015

The People's Democratic Party Presidential Campaign Organisation says it is ready to defend in court, the eligibility of its candidate, President Goodluck Jonathan, for the… Read more »