Guinea Turns Away Liberians Over Ebola Fears - Report
Despite the decision by President Ellen Johnson Sirleaf to re-open Liberia's borders with neighboring countries as the Ebola virus wanes, there are reports that Liberian marketers, along with other travelers, have been turned away by Guinean border guards.
Liberia: Guinea Turns Away Liberians

New Dawn, 3 March 2015

Guinean authorities are maintaining borders closure with Liberia despite President Ellen Johnson-Sirleaf's last week pronouncement of borders re-opening. Read more »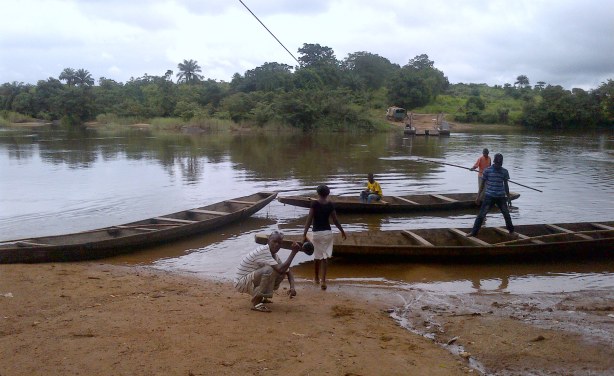 Small boats crossing a remote border between Guinea and Liberia during the Ebola outbreak show how easily the virus can jump from one country to another (file photo).
Liberia: Guinea Closes Border With Liberia

NEWS, 3 March 2015

Guinea, one of the countries hardest hit by the Ebola virus, has reportedly closed its border with Liberia. Read more »

Liberia: Borders Opened, Curfew Lifted

Inquirer, 23 February 2015

President Ellen Johnson-Sirleaf has ordered the lifting of the curfew imposed nationwide. Read more »

Liberia: Curfew Lifted, Borders Opened

New Dawn, 23 February 2015

President Ellen Johnson-Sirleaf has ordered that a nationwide curfew imposed during the height of the Ebola Virus Disease or EVD here be lifted, while all the country's main… Read more »

Liberia: One Thermometer - No Handwash Station, As Liberia Reopens Borders

FrontPageAfrica, 23 February 2015

Citizens of Liberia and Sierra Leone rejoiced at their respective sides of the borders as Liberian government officially opened entry points with neighboring Sierra Leone. But the… Read more »

Liberia: Pres. Sirleaf Lifts Curfew, Re-Opens Main Borders

LINA, 21 February 2015

President Ellen Johnson Sirleaf has ordered the lifting of the curfew imposed nationwide at the height of the Ebola outbreak and reopening of all the country's main borders. Read more »

Sierra Leone: MRU Leaders Vow to End Ebola Within 60 Days

Sierra Leone Government, 16 February 2015

The leaders of the three Ebola worst-hit countries of Guinea, Liberia and Sierra Leone declared at an Extraordinary Summit in the Guinean capital of Conakry, on Sunday 15 February… Read more »
InFocus
As delegates gather for a special high-level meeting on Ebola at the European Commission in Brussels, the International Rescue Committee has published a set of recommendations to ... Read more »

The World Bank had estimated that the worst-affected countries - Liberia, Guinea and Sierra Leone - will lose at least U.S.$1.6 billion in "foregone economic growth" as a result of ... Read more »

As the world commits to finding a vaccine that will help stem the spread of the Ebola epidemic, there are concerns that with fewer new infections, this response is coming a little ... Read more »