Tanzania Starts Implementing Free Education
School enrolment has increased after the government fullfilled its pledge of bankrolling free education from primary to secondary level.
Tanzania: Norway Lauds Free Education Drive

Citizen, 7 March 2016

The Norwegian government has lauded the initiative by the fifth phase government led by President John Magufuli for walking its rhetoric on free education for primary and secondary… Read more »

Tanzania: 90 Percent Believe in Free Education

Citizen, 26 February 2016

Nine out of 10 Tanzanians (90 per cent) are confident the free education policy introduced by President John Magufuli will be implemented on time, according to a new survey. Read more »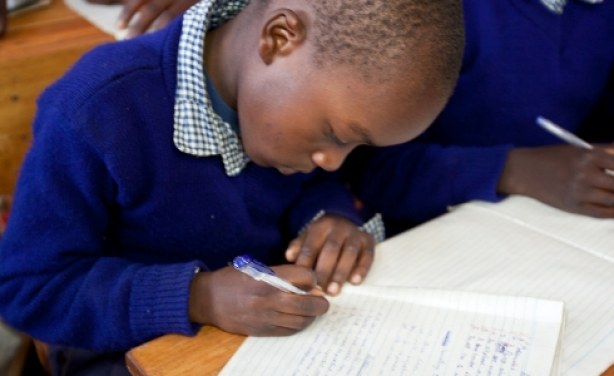 Tanzania has started implementing free education policy by issuing a circular on how it would be executed.
Tanzania: Tarime Keen to Enroll All Children

Daily News, 26 February 2016

Tarime District Council is set to initiate several alternative measures to accomplish the enrollment of all eligible children in primary schools. Read more »

Tanzania: Free Education Policy Succeeds Amid Challenges

Daily News, 24 February 2016

Shortage of desks and classrooms for pupils in primary schools may not be a major story in the media, but how the government and the education stakeholders are overcoming the… Read more »

Tanzania: Kinondoni Envisages Better Education

Daily News, 19 February 2016

The Kinondoni District Commissioner, Mr Paul Makonda, held talks with the management of Feza Schools on how best to improve the education sector in his district. Read more »

Tanzania: Move to Curb Congestion in Schools

Daily News, 18 February 2016

Zanzibar envisages constructing nine new schools in a bid to address the problem of congestion of students, particularly after the government announced free education policy… Read more »

Tanzania: Free Education Is Invited, but ...

Daily News, 17 February 2016

The introduction of free education from Standard One to Form Four has received a lot of accolades nationwide. It is a brilliant initiative that has been unveiled by the Fifth Phase… Read more »

Tanzania: Shortage of Desks Will Be History, Minister Declares

Daily News, 16 February 2016

Government has vowed that the shortage of desks facing some schools in the country will be a thing of the past. Read more »

Tanzania: 1.3 Million Pupils Enrol in Free Learning Plan

Citizen, 14 February 2016

A total of 1.3 million pupils have been enrolled for primary school education all over the country since the introduction of the free education policy, President John Magufuli… Read more »

Tanzania: Snag in 'Free Education' Could Have Been Avoided

Arusha Times, 6 February 2016

The government policy announced in December last year to provide free and quality education to children enrolled in primary and ordinary level secondary schools has been received… Read more »

Tanzania: What I Would Do to Fix Education If I Was the Sector Chief

Daily News, 7 February 2016

Let me start by saying that anybody with a tongue or pen can criticise. However, not all criticism is bad for your health. Now that we have a new government committed to action and… Read more »

Tanzania: Parents Respond to Free Education Initiative

Arusha Times, 30 January 2016

Huge turn-out of pupils overwhelms Arusha schools Read more »

Tanzania: Free Education Spells More Problems in Bukoba

Citizen, 1 February 2016

The free education programme continues to cause uncertainty in Bukoba District with head teachers refusing porridge and foodstuff from parents. Read more »

Tanzania: Students Hail Halotel Free Internet Services

Daily News, 1 February 2016

Victor Njira is among the students at Lugoba Secondary School who are optimistic that they will become medical doctors after accomplishing studies. Read more »

Tanzania: More Than 131 Bn/ - to Cater for Free Education

Daily News, 30 January 2016

The government has set aside a total of 131.4bn/- to implement free education policy, whereby 18.77bn/- will be disbursed monthly, the Deputy Minister of State in the President's… Read more »

Tanzania: Experts Warn On Education Kitty

Citizen, 28 January 2016

Experts have warned against the falling education budget in recent years, saying the trend was likely to hinder growth of the sector--a platform for national development. Read more »

Tanzania: Enrolment Up Thanks to Free Education 'Offer'

Daily News, 27 January 2016

Following parents' positive response to the Fifth Phase Government's commitment to announce the provision of free education in primary and secondary schools starting January this… Read more »

Tanzania: Free Education - a Noble Initiative

Daily News, 27 January 2016

Tanzania has effectively started implementing free education policy by issuing a circular on how it would be executed from this January. Read more »

Tanzania: 16 Billion/ - Sent to Schools to Prop Free Education

Daily News, 27 January 2016

The government disbursed last month capitation funds amounting to 15.71bn/- to public primary and secondary schools countrywide in implementation of free education policy, the… Read more »

Tanzania: Free Education Fears Arise

Citizen, 23 January 2016

Mbarouk-Tabora Read more »

Tanzania: Free Education Plan Here to Stay

Daily News, 23 January 2016

President John Magufuli has reaffirmed his government's stand in bankrolling free education to every child and youths from primary to secondary school. Read more »

Tanzania: Let's Try Harder to Make Free Education a Reality

Citizen, 20 January 2016

Our education sector is in crisis. This has been the case for around three decades now, with the number of students in a classroom in many of our schools exceeding 45, which is the… Read more »

Tanzania: School Heads Fear Downside of Free Education

Citizen, 18 January 2016

Heads of some public schools in Handeni district fear they might not be able to repay loans their schools secured last year after the government abolished school fees and other… Read more »

Tanzania: Free Education Sparks New Crisis

Citizen, 15 January 2016

The government's grand plan of providing free and quality education is facing its biggest test following reports that enrolment of pupils is now overwhelming primary schools across… Read more »
InFocus
According to the Isle President, Ali Mohamed Shein, parents will not be expected to contribute fees for primary education. Read more »