How Uganda Has Abandoned Cancer Patients to Die
Many cancer patients have reportedly died since the country's only radiotherapy machine broke down fifteen months ago. The cost of chemotherapy treatment is beyond the means of most families.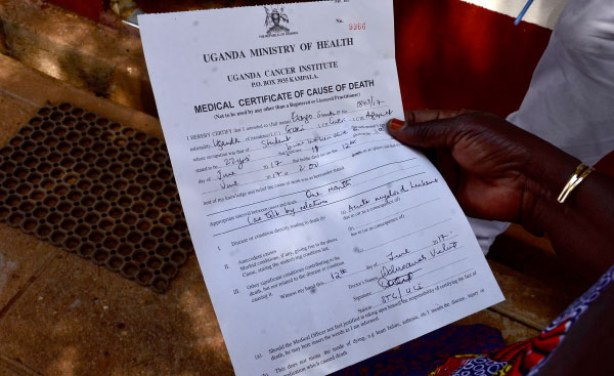 Simon Ekongo's death certificate. He a cancer patient who died at the Cancer Institute.
Uganda: Medics Abandon Cancer Patient for 60 Hours, Dies

Monitor, 13 June 2017

A cancer patient has died at Uganda Cancer Institute (UCI) sixty hours after health workers failed to admit or treat him. Read more »

Uganda: While Carol Atuhirwe Goes to Rest...

Observer, 12 June 2017

It is a truism that, in the end, when our performance on earth's stage is over, we shall all bow out at some point. Read more »

Uganda: Carol Atuhirwe, State Failure and the Ugandan Spirit of Survival

Monitor, 6 June 2017

Then a most beautiful, tenacious resilient, smiling soul; in great pain due to the debilitating infirmity of lung and throat cancer succumbed. Read more »

Uganda: Can Government Establish Loan Scheme for Chronic Care in Uganda?

Monitor, 6 June 2017

A few years ago, the government set up a students' loan scheme for tertiary education. The objective of the scheme is to help the disadvantaged students in society to access… Read more »

Uganda: Decentralise Cancer Centres

Monitor, 5 June 2017

Early last year, a heartrending story of a young woman who was battling throat and lung cancer was aired on TV. It moved the country to tears! Ugandans quickly came together to… Read more »

Uganda: Cancer - Atuhirwe Carol Dies in India

Monitor, 1 June 2017

Ms Carol Atuhirwe, who was battling throat and lung cancer, has died. Read more »

Uganda: Mulago Children Cancer Ward Receives Shs30 Million Boost

Monitor, 31 May 2017

The children's cancer ward in Mulago has received a total of $10,000(about Shs36.2m) to help out in the medical check-ups and buying the medication for the children whose guardians… Read more »

Uganda: Mulago to Resume Radiotherapy in July

Observer, 15 May 2017

The new radiotherapy machine for the Uganda Cancer Institute at Mulago will be operational by July, according to a new timeline set by government. Read more »

Uganda: No More Free Services At Mulago Hospital

Monitor, 11 May 2017

The renovation and rehabilitation of the new of Mulago national referral hospital that began in 2014 is expected to be completed in October this year. Read more »