South African Public Protector to Probe #GuptaLeaks Emails
Public Protector Busisiwe Mkhwebane's decision to investigate the #GuptaLeaks emails has been welcomed by the ruling African National Congress. Hundreds of gigabytes of data containing thousands of emails and other documents "prove the Guptas run South Africa", according to investigative units.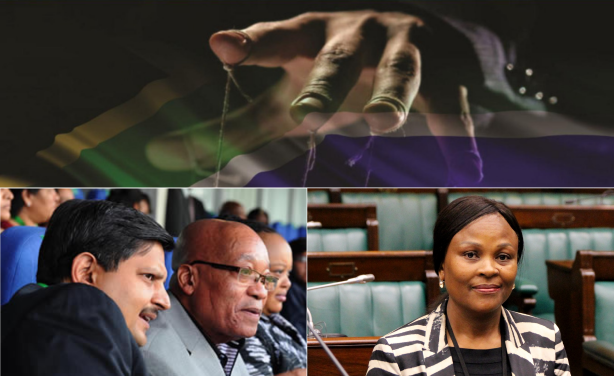 Top: Title image of former public protector Thuli Madonsela's "state capture" report. Bottom-left: Atul Gupta and President Jacob Zuma. Bottom-right: Public Protector Busisiwe Mkhwebane.
InFocus
Opposition party the Economic Freedom Fighters has said they received reliable information alleging that Malusi Gigaba, while minister of home affairs, unduly granted the Gupta ... Read more »

Individuals guilty of state capture may fear their political survival is at stake and that they have no further use to the Gupta family who have a "grip on the state" and "control ... Read more »

EFF leader Julius Malema has taken on all of South Africa's current controversies during one press conference - tackling #GuptaLeaks, allegations of corruption at Transnet, the ... Read more »