Rwanda Ready For Polls, Kits For Diaspora Voters Delivered
The diaspora community is slated to cast its vote on August 3, a day before citizens in the country. Voters are to choose their president for the next seven years between the incumbent President Paul Kagame, Frank Habineza of the Demoractic Green Party of Rwanda and Philippe Mpayimana, an independent candidate.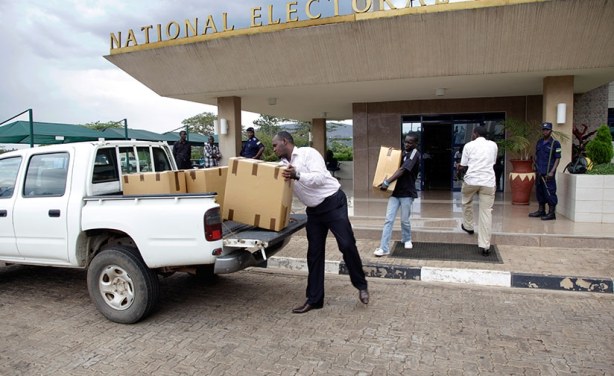 National Electoral Commission staffers load voters kits on a truck during a past election.
Rwanda: I'll Win This Election, Says Mpayimana

New Times, 27 July 2017

Independent presidential candidate Philippe Mpayimana yesterday declared that he will win the August 4 presidential election. Read more »

Rwanda: Disclosing 2017 Presidential Candidates 'Persuasive Tactics'

News of Rwanda, 27 July 2017

Three Presidential candidates in Rwanda's election campaigns that commenced on July 14th, want the country's highest office; to be President of the Republic. Read more »

Rwanda: Comesa to Deploy Electoral Observers in Rwanda

New Times, 25 July 2017

The Common Market for Eastern and Southern Africa (COMESA) is set to deploy short term an electoral observation mission to the upcoming presidential in Rwanda scheduled for 4th… Read more »

Rwanda: Rwandans in Netherlands Urged to Participate in Presidential Elections

New Times, 25 July 2017

As the Rwandan Embassy in the Netherlands on Saturday held an event to celebrate the country's 23rd liberation anniversary, the Rwandan envoy urged Rwandans residing in the country… Read more »

Rwanda: As RPF Draws Crowds, the Greens and the Independents Face Empty Venues

East African, 24 July 2017

On a sunny Thursday afternoon, Philippe Mpayimana and his "entourage" of two people and an announcer strolled into a playground at Mahoko in Rubavu district, where was supposed to… Read more »

Rwanda: Election Countdown in Rwanda

Deutsche Welle, 23 July 2017

There is little doubt that Rwanda's President Paul Kagame will win the elections on August 4, as his government leaves no room for opposition. But will he leave at the end of his… Read more »

Rwanda: Rwanda to Hold First Live TV Presidential Debate

East African, 20 July 2017

Rwanda is set to hold its first live televised presidential debate ahead of the August 4 elections. Read more »
InFocus
Rwanda, Kenya and Angola will be electing presidents on August 4, 8 and 23 respectively. In Rwanda, multi-term President Paul Kagame, who has been in power for 17 years, is ... Read more »

With the presidential election around the corner, the three hopefuls President Paul Kagame, Frank Habineza and Phillipe Mpayimana are travelling around the country in a bid to gain ... Read more »

As in previous elections in 2003 and 2010, President Paul Kagame's opponents don't stand a chance of even getting close to winning as long as he is in the running. Therefore, the ... Read more »