#GuptaLeaks a 'Huge Embarrassment' for South Africa's ANC
African National Congress Treasurer General Zweli Mkhize and Secretary General Gwede Mantashe have called on authorities to hold officials implicated in the #GuptaLeaks accountable for their actions. This comes after the Gupta-alligned Black First Land First organisation disrupted an event discussing state capture and a second German software multinational was found collaborating with a Gupta-owned company to secure lucrative state contracts.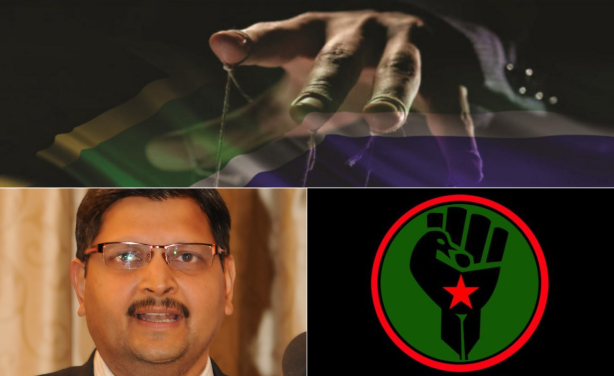 Top: Title image of former public protector Thil Madonsela's state capture report. Bottom-left: Atul Gupta. Bottom-right: Logo of Black First Land First.
South Africa: Police Must Arrest Those Implicated in Gupta Leaks - Mantashe

News24Wire, 27 July 2017

Law enforcement agencies must arrest those within the ANC who have been criminally implicated in the so-called Gupta leaks, party secretary general Gwede Mantashe said on Thursday. Read more »

South Africa: The ANC Cannot Be Reformed - the Rot Is Too Deep

Daily Maverick, 28 July 2017

It is very transparent that the ANC of today has little moral connection with the liberation movement and the lofty ideals of the Tambos, the Sisulus, the Mbekis and the Kathradas.… Read more »

South Africa: Black First Land First Disrupts Journo Event On State Capture

News24Wire, 27 July 2017

Black First Land First (BLF) leader Andile Mnxgxitama and a small band of BLF members disrupted a discussion on state capture in Braamfontein, Johannesburg on Thursday night. Read more »

South Africa: #GuptaLeaks - Let's Hear It for the Good Guy

Daily Maverick, 26 July 2017

The revelations contained in the #GuptaLeaks emails may give the impression that everyone the Guptas encountered rolled over to do their bidding - either through pressure from… Read more »

South Africa: Don't Assume Zuma Is a Gupta Lackey - ANC Chair

News24Wire, 25 July 2017

KwaZulu-Natal ANC chairperson Sihle Zikalala has cautioned against making any judgements about the relationship between President Jacob Zuma and the Gupta family. Read more »

South Africa: #GuptaLeaks - Another German Software Giant Implicated in 'Kickback' Payments

Daily Maverick, 25 July 2017

A second German multinational, Software AG, has been caught red-handed entering questionable commission agreements with a Gupta-controlled company in the hope of securing lucrative… Read more »

South Africa: President Zuma - I've Never Sought Residency Outside Country

News24Wire, 24 July 2017

President Jacob Zuma revealed in a written reply to a Parliamentary question on Monday that he owns no property outside of South Africa and never sought residency for himself or… Read more »

South Africa: Amabhungane - How Gupta Associates 'Fleeced' Cosatu in HQ Deal

Daily Maverick, 21 July 2017

Evidence suggests that an influential Gupta associate and a future Eskom acting chief executive colluded in a deal that fleeced the trade union federation of millions. Read more »

South Africa: Software Giant in 'Kickback' Deal With Gupta Company - #GuptaLeaks

Daily Maverick, 10 July 2017

To clinch Transnet business, business software giant SAP agreed to pay 10% "sales commission" to a company controlled by the Guptas. The evidence suggests the company - a… Read more »