What You Need to Know About Rwanda's Presidential Poll
President Paul Kagame is the certain victor because the relevant institutions are working in his favour. Frank Habineza and Philippe Mpayimana reportedly lack sufficient exposure and funding to conduct a successful campaign. The election is being watched closely by observers concerned about an erosion democracy in the country, reports Pamela Abbott for The Conversation.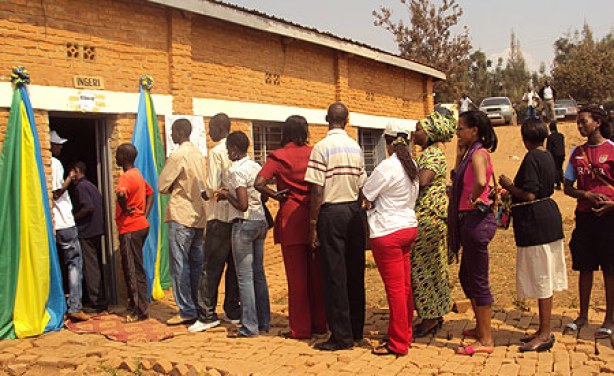 Voters line up to exercise their constitutional right to vote (file photo).
Rwanda: President Heads Toward Re-election in August Vote

VOA, 29 July 2017

Normally, African election campaigns like the one taking place in Rwanda generate a lot of "noise," meaning tension and worries of unrest, according to Moody Awori, head of the… Read more »

Rwanda: 2017 Elections - Unity in Diversity

New Times, 28 July 2017

The second week of campaigns was characterised by a huge turn up of Rwandans, and being an early riser and thus turned up early at most venues, I witnessed first-hand the zeal by… Read more »

Rwanda: Rights Groups Question Rwanda's Political Freedom

East African, 29 July 2017

As Rwandans prepare to vote on August 4, several rights groups have said the political climate in the country only favours the ruling party and has sidelined the opposition. Read more »

Rwanda: Kagame's Rival Candidates Confident of a Win

East African, 29 July 2017

Rwanda's opposition presidential candidates have weathered many challenges in their bid to vie for the top seat in the country. Now, in the homestretch, they are exuding confidence… Read more »
InFocus
The diaspora community is slated to cast its vote on August 3, a day before citizens in the country. Voters are to choose their president for the next seven years between the ... Read more »

Rwanda, Kenya and Angola will be electing presidents on August 4, 8 and 23 respectively. In Rwanda, multi-term President Paul Kagame, who has been in power for 17 years, is ... Read more »

With the presidential election around the corner, the three hopefuls President Paul Kagame, Frank Habineza and Phillipe Mpayimana are travelling around the country in a bid to gain ... Read more »