Zimbabwe's Mawarire Charged with Subversion, Held Indefinitely
Pastor Evan Mawarire known for his #This Flag Movement has reporterdly been arrested after he spoke out on social media on Zimbabwe's worsening economic crisis. This is not the first time he is arrested for speaking out on soial media, in 2016 he urged Zimbabweans to rise up against President Robert Mugabe's government which led to his first arrest.
InFocus
Pastor Evan Mawarire who started the This Flag movement in 2016 and who is an outspoken critic of President Robert Mugabe's administration, has been taken in for questioning by ... Read more »
Video
Author:

https://m.facebook.com

Publisher:

Publication Date:

25 September 2017

Pastor Evan Mawarire speaks out on Zimbabwe's worsening economic crisis. see more »
Zimbabwe: Mawarire Charged With Subverting Govt

New Zimbabwe, 24 September 2017

PASTOR Evan Mawarire was Sunday afternoon charged with subverting a constitutional government before being locked up indefinitely, his lawyer told New Zimbabwe. Read more »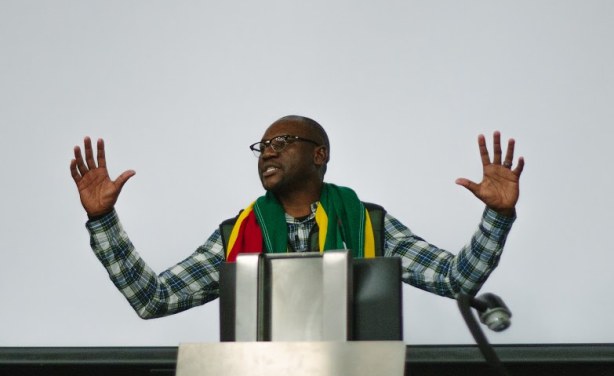 Pastor Evan Mawarire (File photo).
Zimbabwe: We Are Watching You, U.S. Tells Zimbabwe

Zimbabwe Standard, 24 September 2017

The United States has urged Zimbabwe to end arbitrary arrests and intimidation of political players as the country braces for the trial of prominent preacher Evan Mawarire for… Read more »
InFocus
Evan Mawarire has been arrested at the University of Zimbabwe for joining a protest by medical students over a recent fees hike. In a video sent from the police station, Mawarire ... Read more »

The trial of Evan Mawarire on charges of subverting a constitutionally elected government will start at the High Court on September 25. Forced into exile last year, Evan Mawarire ... Read more »

This follows President Robert Mugabe's continued violation of human rights without regard to protections in the country's constitution. Raising an alarm has been the recent arrest ... Read more »