Has Mugabe's Govt Switched On The Money Printing Machine?
The government is bust. It is again printing money to cover its spiralling costs, inflation is rising - And given that there's an election looming in 2018, the ruling party, Zanu-PF doesn't want to cut-back. Far from it, it wants to carry on spending, as fast as it can, writes The Conversation's Roger Southall.
Zimbabwe: Financial System Living On Borrowed Time

The Conversation Africa, 31 October 2017

Zimbabwe's financial system increasingly resembles a house of cards. Were one card to give way - for instance, if South Africa's power utility, Eskom, were to have the temerity to… Read more »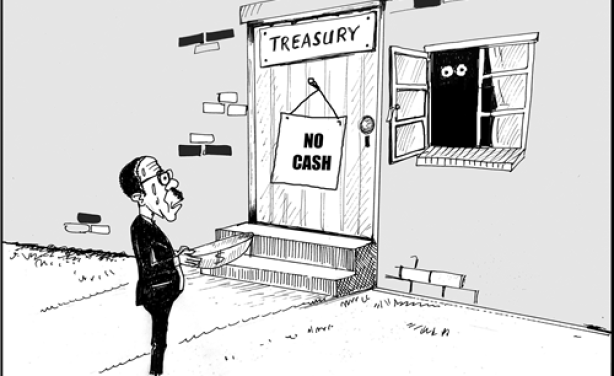 President Robert Mugabe cartoon.
Zimbabwe: 'Govt Could Default Treasury Bills Payment'

The Herald, 19 October 2017

The Parliamentary Budget Office has warned that the Government could default on its Treasury Bills payment obligations on maturity, a development it fears could leave most local… Read more »

Zimbabwe: Cash Crisis Not National Social Security Authority's Problem'

The Herald, 3 October 2017

The National Social Security Authority (NSSA) has never failed to pay pensioners their monthly payouts and cannot be blamed for failure by retirees to access cash at banks, a… Read more »

Zimbabwe: Domestic Workers Form National WhatsApp Group

New Zimbabwe, 1 October 2017

Lowly paid domestic workers are the most affected by the cash crisis as withdrawal percentages being demanded by dealers wipe out their modest wages, Mendy Lusaba, founder of… Read more »

Zimbabwe: Ruling Party MP 'Asks Mugabe to Force Central Bank Chief Out'

News24Wire, 25 September 2017

A Zanu-PF lawmaker has reportedly urged President Robert Mugabe to fire Zimbabwe's central bank governor John Mangudya, as the cash crisis continues to grip the country, with bond… Read more »