Uganda Will Have Its Own Zimbabwe Moment - Retired General
Retired Major-General Benon Biraaro, who helped bring President Yoweri Museveni into power in 1986, says Uganda will have a new president in 2021. Weighing in on the age limit bill that seeks to remove the presidential age limit, Biraaro says he is seeing signs of a coup in the country.
General Benon Biraaro, left, at the Centre for Constitutional Governance offices.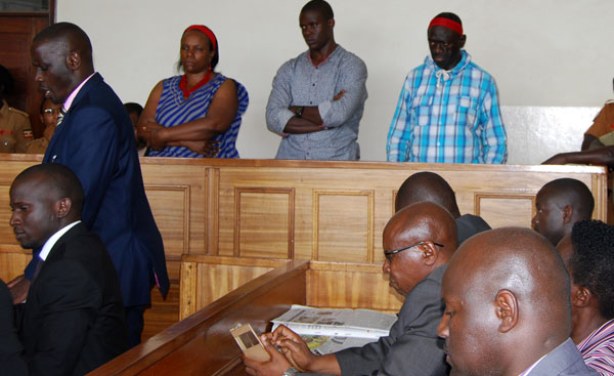 Former presidential candidate Dr Kizza Besigye and his co-accused at Mbarara Chief Magistrate's Court on Thursday.
Uganda: MPs Powers to Amend Constitution Limited - Lawyer

Observer, 17 November 2017

Senior lawyer Peter Mulira has said that parliament's powers to amend the Constitution under the current provisions are very limited. Read more »

Uganda: Age Limit Consultation Will Achieve Little - Prof Ssempebwa

Observer, 17 November 2017

Prof Fredrick Edward Ssempebwa, the man who chaired the last Constitutional Review Commission (CRC), said this week that it would be impossible to tell if President Museveni will… Read more »

Uganda: Bwanika Wants Age Limit Signatures Collected Via SMS

Observer, 17 November 2017

Former presidential candidate Dr Abed Bwanika has written to telecommunications companies MTN and Airtel asking for help to collect signatures of Ugandans who support the idea of a… Read more »

East Africa: The African State Is Fast Resizing

Monitor, 17 November 2017

Last night and this morning, the army in Zimbabwe took drastic measures to rein in on Robert Gabriel Mugabe, the 93-year-old incumbent, who has been planning to hand over power to… Read more »

Uganda: Age Limit Is Heart of the Matter and Matter of the Heart

Monitor, 17 November 2017

Firstly, I, as are many Ugandans, do not mind the Constitution being amended. However, what I detest is the spirit in which it is done. This country has been crying for electoral… Read more »
InFocus
An escalation in hostilities against MPs who support the lifting of presidential age limits is forcing some to cut back on consultative meetings - or to promise to properly ... Read more »

Ruling party leaders have questioned the credibility of the 1995 Constitution during an appearance before a parliamentary committee which is looking at a bill which seeks to lift ... Read more »