Ugandan Ruling Party MPs Question Credibility of Constitution
Ruling party leaders have questioned the credibility of the 1995 Constitution during an appearance before a parliamentary committee which is looking at a bill which seeks to lift age limits for presidential candidates. The officials told the committee that some provisions were "smuggled" into the constitution.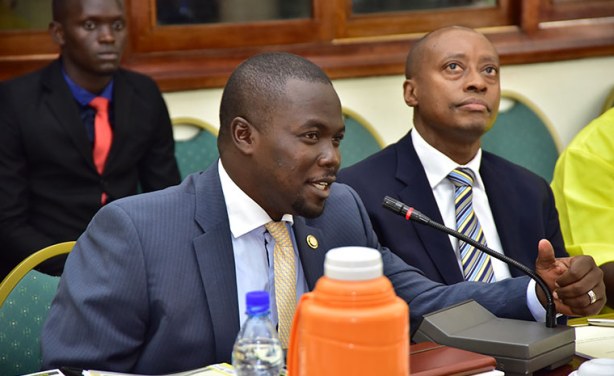 NRM deputy secretary general Richard Todwong makes his submission as the chairperson of National Entrepreneurs League RM Dr Robert Mwesigwa looks on.
Uganda: When Magyezi Stormed Out of Age Limit Meeting

Observer, 3 November 2017

On Tuesday, the Legal and Parliamentary Affairs committee started hearings on the controversial Constitution Amendment No 2 Bill, which seeks to remove presidential age limits. Read more »

Uganda: More MPs Reject Age Limit Cash

Monitor, 2 November 2017

Kasese Woman MP and Leader of Opposition in Parliament Winnie Kiiza has this morning returned she 29 million to parliament. Read more »

Uganda: Speaker Kadaga Asks President Museveni to Explain House Raid

Monitor, 2 November 2017

The Speaker of Parliament, Ms Rebecca Kadaga, has asked President Museveni to explain the circumstances surrounding, and reasons for, the September 27 raid on Parliament by… Read more »

Uganda: Age Limit Bill Unpopular, Says NRM's Kamugisha

Monitor, 2 November 2017

Kajara County MP Michael Kamugisha Timuzigu has described the Constitution Amendment Bill on the age limit as a hot potato that cannot be sold to the population. Read more »

Uganda: Our Parliament Is Being Dissolved Through Bribery

Monitor, 3 November 2017

In 2005, a bizarre proposal for constitution amendment to grant the Executive power to dissolve Parliament was mooted. One may argue that it was brought to divert legislators'… Read more »
InFocus
The Uganda Medical Association plans to set up a team to conduct research on whether a person who is 75 or older has the physical and mental abilities to be president. The ... Read more »

Ruling party MP Raphael Magyezi abandoned the first hearing of the parliamentary committee scrutinising his controversial presidential age limit removal bill. For close to six ... Read more »

The money was said to help lawmakers consult with their constituents over the removal of the age limit in the constitution. Read more »