Nigerian Governor Willie Obiano Wins Anambra Election
The Independent National Electoral Commission has declared Willie Obiano of the All Progressives Grand Alliance as the winner of the governorship election in Anambra state. Obiano described his victory as showing a resolve by the people of the state to rise above varying interests and take full control of their destiny.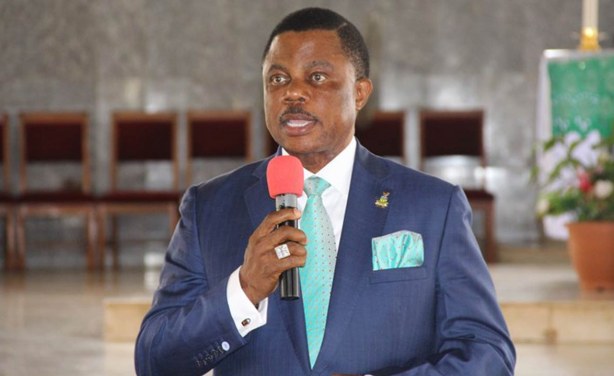 Governor Willie Obiano.
Nigeria: INEC Concludes Anambra Governorship Election At First Ballot, Declares Obiano Winner

Daily Trust, 20 November 2017

The Independent National Electoral Commission (INEC) says it has recorded another major feat on 19th November, when it announced the final results of the Anambra State Governorship… Read more »

Nigeria: Anambra Polls - Winners and Losers

Vanguard, 20 November 2017

Winners Read more »

Nigeria: ‎Anambra Election - 20 Parties Score Less Than 100 Votes Each

Premium Times, 20 November 2017

More than half of the 37 parties that took part in Saturday's governorship election scored less than 100 votes, an analysis of the results show. Read more »

Nigeria: Anambra Election - APGA Leader Commends Buhari for Obiano's Victory

Premium Times, 20 November 2017

The Director General of the Willie Obiano campaign organisation, Victor Umeh, has thanked President Muhammadu Buhari for his party's victory at the polls on Saturday. Read more »

Nigeria: Main Opposition Party Candidate Rejects Anambra Election Result

Premium Times, 19 November 2017

Oseloka Obaze, the candidate of the Peoples Democratic Party (PDP), has rejected the result of Saturday's governorship election in Anambra. Read more »

Nigeria: Governor Obiano's 'Clear' Victory Thrills Opposition

Guardian, 20 November 2017

Opposition political parties yesterday praised the re-election of Anambra State governor, Willie Obiano, saying it held hopes for the country's democracy. Read more »

Nigeria: How Anambra Poll Was Won and Lost

Guardian, 20 November 2017

It was a tight race. It gave some residents goose pimples but in the end, incumbent Governor Willie Obiano emerged winner of the keenly contested governorship election in Anambra… Read more »

Nigeria: Despite Buhari, Jonathan, APGA's Obiano Wins Anambra Election

Premium Times, 19 November 2017

The candidate of the All Progressives Grand Alliance, Willie Obiano, has won the Anambra governorship election. Read more »
InFocus
The election in Anambra will go down as one of the most anticipated governorship elections in the history of Nigeria Ebuka Onyeji, Josiah Oluwole and James Eze writes for Premium ... Read more »