Race for South Africa's ANC Top Spot Reaches Final Stretch
Provincial leadership structures are now expected to announce their preferred candidates although the final vote for the new leadership will be left to the branch delegates comprising national executive committee members, provincial executive committee members and the party's leagues - who will attend the national conference from December 16 to 20 in Gauteng.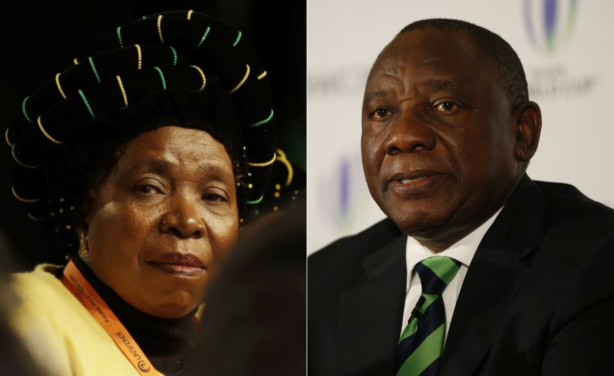 Left: ANC MP Nkosazana Dlamini-Zuma. Right: Deputy President Cyril Ramaphosa.
South Africa: ANC Leadership Race - Ramaphosa Bags the Eastern Cape but Branches Choose Zweli Mkhize and David Mabuza Over Naledi Pandor

Daily Maverick, 1 December 2017

In the Eastern Cape on Thursday, the ANC overwhelmingly nominated Deputy President Cyril Ramaphosa for president. It's the first of the big provinces to nominate, and so far… Read more »

South Africa: Social Media Race to the ANC Presidency - Campaigns Intensify Amid a Mixed Narrative

Daily Maverick, 1 December 2017

As ANC presidency campaigns began to intensify in June 2017, they illustrated a lack of cohesion and focus to the party's public narrative. Social media, and digital news research… Read more »

South Africa: ANC Deputy Presidency Race Heats Up As Three Candidates Get the Nod

News24Wire, 1 December 2017

ANC branches would like to see more contestants for the deputy president post than they do for the president - this is what the outcomes of the nomination process have revealed so… Read more »

South Africa: Trainspotter - Ramaphosaism - Life Under the Next Fearless Leader

Daily Maverick, 30 November 2017

Only one African National Congress frontrunner has a comprehensive economic policy. Call it Ramaphosaism. This is a story about what it means. By RICHARD POPLAK. Read more »

South Africa: Parliament - Ramaphosa's Searching for the Bright Side of Life in His Quest for Presidency

Daily Maverick, 1 December 2017

When Deputy President Cyril Ramaphosa takes to the podium he looks at ease, cracking a joke or two amid some self-depreciating comments. It's easy to mistake this as the confidence… Read more »
InFocus
The Free State branches of the African National Congress have threatened to take court action after the provincial general council nominated ANC presidential hopeful Nkosazana ... Read more »

Deputy President Cyril Ramaphosa has iterated the importance of the African National Congress's looming National Elective conference where he and fellow presidential front runner ... Read more »