National Fuel Queues as Nigerian Officials Scramble
The National Petroleum Corporation says that the queues at some filling stations are as a result of panic buying by consumers. The situation was worsened after the declaration by the Independent Petroleum Marketers Association of Nigeria about plans to withdraw services on December 11.
Nigeria: Countrywide Fuel Queues As Officials Scramble to Abort Crisis

Premium Times, 5 December 2017

Despite assurances given by the Nigerian National Petroleum Corporation, NNPC against any impending fuel crisis, most filling stations, particularly in the South-west part of the… Read more »

Nigeria: Fuel Scarcity - Senate to Inspect Filling Stations

Premium Times, 5 December 2017

The Senate Committee on Petroleum Downstream says plans have been concluded for it to conduct nationwide inspection of filling stations over recent fears of fuel scarcity in the… Read more »

Nigeria: IPMAN Blames Failed Roads, Apapa Gridlock, Rumoured Fuel Price Hike, Fuel Scarcity

Vanguard, 6 December 2017

... Senate summons NNPC boss, to inspect filling stations nationwide Read more »

Nigeria: Fuel Scarcity Spreads to States, Litre Sells At N165

Daily Trust, 6 December 2017

Fuel scarcity is fast spreading across the states resulting in long queues at filling stations, even as the price of the commodity soared to between N160 - N180 per litre, Daily… Read more »

Nigeria: Fuel Queues - Group Commends Baru's Initiatives

Leadership, 6 December 2017

In a bid to salvage the fuel supply and distribution challenges being witnessed in some parts of the country due to panic buying from motorists, the group managing director of the… Read more »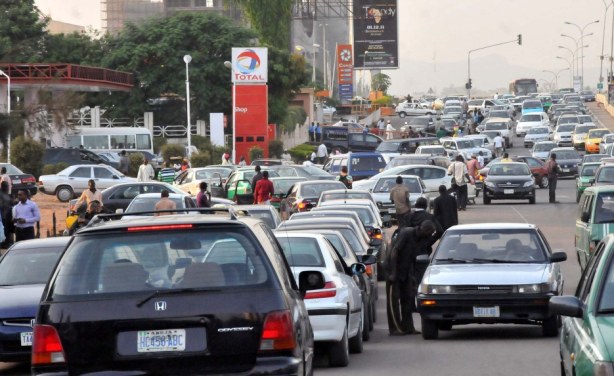 Nigerian motorists queue for fuel.