No Holiday For Zimbabwe's Cabinet as They Have Point to Prove
Zimbabwe's newly sworn-in Cabinet ministers are reportedly putting in extra hours every day to meet targets set by President Emmerson Mnangagwa as a new work ethic takes root in government. Mnangagwa took over just months away from an election in which he will be the ruling Zanu-PF candidate. With all eyes on whether he breaks with the past failures of former president Robert Mugabe's reign, and little time to revamp a shattered economy marked by empty banks and silent factories, the new government has a huge task on their hands.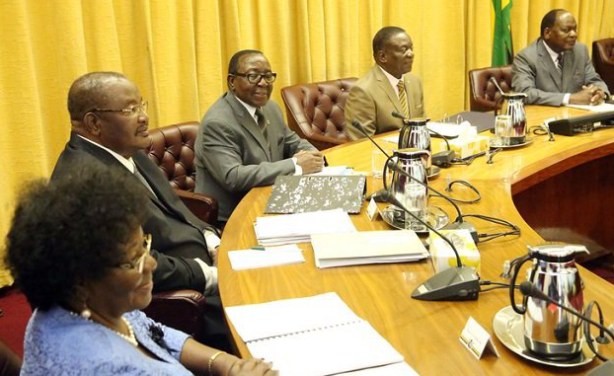 President Emmerson Mnangagwa chairs his inaugural Cabinet meeting while flanked by Ministers Sithembiso Nyoni, Obert Mpofu, Simon Khaya Moyo and Chief Secretary to the President and Cabinet Misheck Sibanda at Munhumutapa offices in Harare.
Zimbabwe: Mnangagwa's Ministers 'Cancel Festive Season Travel to Meet Set Targets' - Report

News24Wire, 11 December 2017

Zimbabwe's newly sworn-in cabinet ministers are reportedly "putting in extra hours every day to meet targets" set by President Emmerson Mnangagwa "as a new work ethic takes root in… Read more »

Zimbabwe: Borehole Drilling Project Begins

The Herald, 12 December 2017

The Ministry of Environment, Water and Climate is spearheading a $4,5 million borehole drilling project under the Command Water Harvesting Programme. The programme, which is meant… Read more »

Zimbabwe: Analysts Doubt Much Has Changed

VOA, 11 December 2017

On the surface, a lot has changed in Zimbabwe in the last month — longtime president Robert Mugabe finally resigned after 37 years in power after the army took over state… Read more »

Zimbabwe: Civil Servants Laud Govt On Bonus Commitment

The Herald, 12 December 2017

Civil servants have welcomed Government's commitment to pay their 2017 annual bonuses and pledged to support President Emmerson Mnangagwa's administration in its quest to revive… Read more »

Zimbabwe: Pragmatism Key in Education Sector

The Herald, 12 December 2017

Over the weekend, we carried an expansive interview with the new Minister of Primary and Secondary Education, Professor Paul Mavima, as he explained how he was going to steer the… Read more »

Zimbabwe: Zim's Budget Rekindles Economic Hope

CAJ News, 8 December 2017

ZIMBABWE'S Finance Minister, Patrick Chinamasa on Thursday presented a whopping $5.1 billion (about R76 billion) budget for 2018, which seeks to make a huge economic turnaround for… Read more »