'Water for All or the City Must Fall', Cape Town Protesters Say
The Water Crisis Coalition, comprising representatives from over 70 organisations, protested against city officials, telling them to take responsibility for their failure to plan for water scarcity. This comes as a drop in dam levels caused #DayZero to be moved forward to 12 April 2017.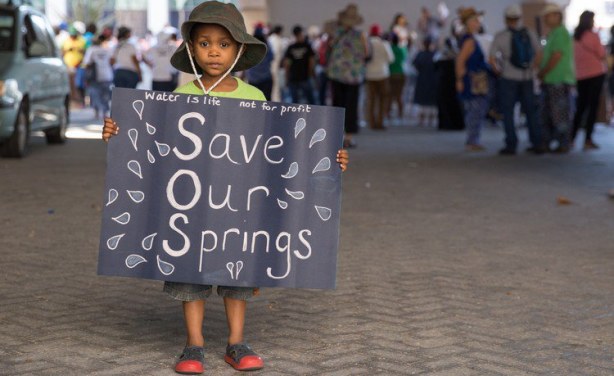 Four-year-old Caleb Slabbert attended the protest.
Video
Publisher:

Publication Date:

29 January 2018

A group of Cape Town residents and activists protested at the civic centre on Sunday afternoon under the auspices of the newly formed Water Crises ... see more »
South Africa: Water for All or the City Must Fall - Cape Town Protesters

News24Wire, 28 January 2018

"Water for all or the city must fall," dozens of protesters chanted outside the Cape Town civic centre on Sunday where concerned ratepayers gathered in protest against the drought… Read more »

South Africa: So Madam Minister, Where Is the Water? - Asks Cape Town Deputy Mayor

News24Wire, 28 January 2018

"So madam minister, where is the water?" Read more »

South Africa: Money Won't Curb #DayZero, We Must Adapt - Minister

News24Wire, 28 January 2018

Water and Sanitation Minister Nomvula Mokonyane says that throwing money at the looming #DayZero crisis is not the answer, but rather Capetonians need to adapt to the situation. Read more »

South Africa: Water Crisis Is a 'Governance Disaster' - Former Western Cape MEC

News24Wire, 28 January 2018

The handling of the water crisis has revealed a crisis in the governance of Cape Town, former Health MEC Theuns Botha said over the weekend. Read more »