U.S President Trump Tightens Screws on Zimbabwe
U.S. sanctions which were set to expire this month have been extended for another year by President Donald Trump who said that the country had not yet transformed since the ouster of former president Robert Mugabe. Meanwhile, President Emmerson Mnangagwa promised to repair ties with the West, repay foreign debt, compensate white farmers and open the resource-rich country to overseas investors.
Zimbabwe: U.S. President Trump Extends Sanctions

New Zimbabwe, 5 March 2018

U.S. President Donald Trump has extended sanctions against Zimbabwe for another year, saying the Harare administration remains a threat to Washington's foreign policy. Read more »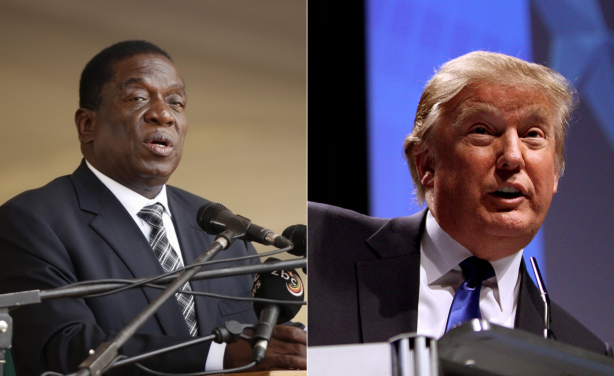 Presidents Emmerson Mnangagwa and Donald Trump (file photo).
Southern Africa: Zimbabwe Will Rise Like a Phoenix - U.S. Diplomat

The Herald, 3 March 2018

Zimbabwe "can rise Phoenix-like" once the crippling sanctions imposed by the United States of America are removed, a US diplomat and former United States ambassador to the Southern… Read more »

Zimbabwe: New Dispensation Charms U.S. Govt

The Herald, 17 February 2018

The United States (US) government has lined up investors to assess investment opportunities here following the ascendency of President Mnangagwa to power late last year, US… Read more »
InFocus
The U.S. has reportedly extended sanctions, with a possible review after elections in July this year. The EU and the U.S.imposed sanctions in 2000, after they accused former ... Read more »

The Donald Trump-led United States administration has tabled a raft of tough conditions to be met before full engagement with Zimbabwe and removal of sanctions, setting the stage ... Read more »