Zimbabwe Ruling Party Politician Resigns Over 'Military Coup'
A Zanu-PF legislator and former minister has resigned from the ruling party, saying the army staged a coup in November 2017 and unconstitutionally overthrew former president Robert Mugabe. Ambrose Mutinhir, a retired brigadier general, says government and state institutions were "captured" by the military, which was a violation of the constitution of Zimbabwe. Reports say Mutinhiri has been confirmed as the leader of the New Patriotic Front, an opposition party launched by expelled members of the ruling party faction loyal to former first lady Grace Mugabe.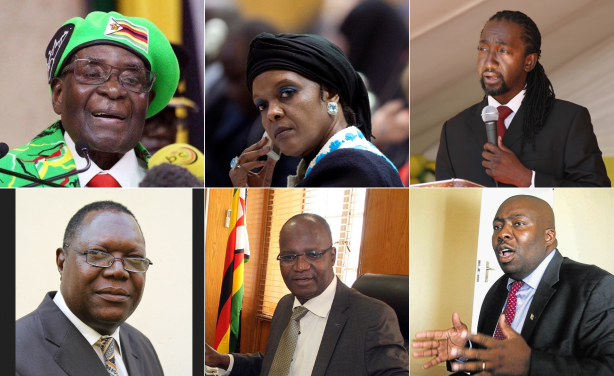 Top row: Robert Mugabe, Grace Mugabe and their nephew Patrick Zhuwao. Bottom row: Ambrose Mutinhiri, Jonathan Moyo and Saviour Kasukuwere (file photo).
Zimbabwe: Former Grace Mugabe Allies Seek Ruling Party Readmission

The Herald, 6 February 2018

Former Zanu-PF Youth League leader Kudzanai Chipanga has apologised for his links to the G40 cabal and wrote to First Secretary and President, Cde Emmerson Mnangagwa seeking… Read more »

Zimbabwe: New Patriot Front Not Bringing Back Mugabe - Former Minister

New Zimbabwe, 4 February 2018

A leading member of the G40 crew and former cabinet minister Patrick Zhuwao said the latest political outfit New Patriot Front (NPF) is not an avenue to bring back toppled former… Read more »

Zimbabwe: Ex-President Mugabe Must Face Reality Like All of Us

The Herald, 28 February 2018

The private media have in the past week or so afforded us a glimpse into the life of Zimbabwe's former First Family. Read more »

Zimbabwe: ED Govt God's Plan, Claims Minister

Zimbabwe Standard, 25 February 2018

Mashonaland Central Provincial Affairs minister Advocate Martin Dinha (MD) claims he is a man of the spirit and that he knew long before it happened that Emmerson Mnangagwa would… Read more »

Zimbabwe: Mugabe to Make First Public Appearance Since November Coup?

New Zimbabwe, 21 February 2018

Former President Robert Mugabe may be forced to make his first public appearance since his shock ouster in November last year as Zimbabweans take time this Wednesday to mark a… Read more »

Zimbabwe: Ruling Party Is Dead, Says Mugabe's Nephew Zhuwao

263Chat, 7 February 2018

Patrick Zhuwao, a former cabinet minister under former President Robert Mugabe's regime, has said the ruling party , ZanuPF,is dead and buried while dismissing rumors that his new… Read more »

Zimbabwe: G40 Faction Members 'Blood Sucking Ticks' - Mnangagwa

New Zimbabwe, 7 February 2018

President Emmerson Mnangagwa Wednesday derided former First Lady Grace Mugabe and her G40 colleagues who are reportedly mulling the formation of a political party. Read more »

Zimbabwe: Ousted Mugabe Faction Forming New Party?

CAJ News, 5 February 2018

DISGRUNTLED former First Lady, Grace Mugabe, and members of a faction sacked from the ruling party are reportedly forming a party ahead of Zimbabwe's watershed presidential… Read more »
InFocus
Former minister Jonathan Moyo has declared that Zimbabwe will be plunged into bloodshed if the international community fails to remove President Emmerson Mnangagwa's government. ... Read more »

Zimbabwe Defence Forces Commander Phillip Valerio Sibanda has ordered soldiers to be on high alert, warning the servicemen against taking bribes from politicians, after concerns ... Read more »

Supporters loyal to former president Robert Mugabe are challenging the legitimacy of President Emmerson Mnangagwa's administration and have sent a petition to the African Union and ... Read more »