Nigeria Remains on High Alert for Lassa Fever
Nigeria is battling an unprecedented outbreak of Lassa fever that has already killed 142 people this year. The Nigeria Centre for Disease Control has confirmed 400 Lassa cases since January 1 and the disease has spread to 20 states. Health watchdogs are struggling to understand why the deadly virus has spread so dramatically.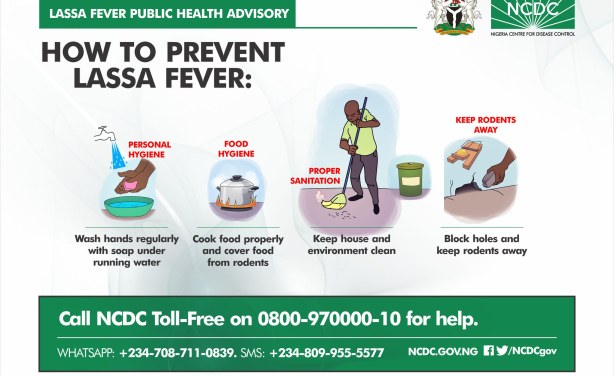 Lassa fever public health advisory.
Nigeria: The Ins and Outs of Deadly Lassa Fever

Africa Check, 10 April 2018

What are the symptoms of Lassa fever, how does it spread and when is a vaccine expected? Read more »

Nigeria: Lassa Fever - Nigeria's Death Toll Rises to 101

Premium Times, 10 April 2018

The death toll from the Lassa fever disease ravaging the country since the beginning of the year, has risen to 101, the Nigerian centre for Disease Control has said. Read more »

Nigeria: Lassa Fever Spreads to 20 States, Kills 142 With 400 Confirmed Cases

Guardian, 5 April 2018

The current Lassa fever outbreak in Nigeria has spread to 20 states leaving 142 dead and 400 confirmed cases.This is compared to the figures released on March 25, 2018, which… Read more »

Nigeria: Lassa Fever Outbreak Slowing, but Remains a Concern - WHO

Premium Times, 26 March 2018

After nearly 400 confirmed infections and 100 deaths, the spread of Lassa fever in Nigeria is beginning to slow but the epidemic is far from contained, the World Health… Read more »

Nigeria: Lassa Fever Kills 142 in Nigeria Since January

Vanguard, 5 April 2018

Lassa fever has killed 142 people in Nigeria since the start of the year, the Nigeria Centre for Disease Control (NCDC) said on Thursday, reporting a rise of 32 fatalities in a… Read more »

Nigeria: Lassa Fever - PDP Blames FG Over Abia Doctor's Death

PDP, 3 April 2018

The Peoples Democratic Party (PDP) has asked Nigerians to hold President Muhammadu Buhari-led All Progressives Congress (APC) Federal Government directly responsible for the… Read more »

Nigeria: 30 People Watched as Lassa Fever Kills Doctor

This Day, 4 April 2018

No fewer than 30 persons have been placed on surveillance following the death of a medical doctor who was said to have contacted Lassa fever in Abia State. Read more »

Nigeria: Lassa Fever - Govt Should Take More Responsibility in Fighting Disease - Experts

Premium Times, 27 March 2018

The Nigerian government has been urged to show more commitment in the fight against Lassa fever. Read more »