Nigerian President Finally Explains Why He Will Run in 2019
President Muhammadu Buhari has said he declared his intention to run for another term in office because the issue had dominated political discourse in the country. "I declared before leaving home because Nigerians were talking too much about whether I would run or not. So, I felt I should break the ice. We have many things to focus on, like security, agriculture, economy, anti-corruption, and many others," he said.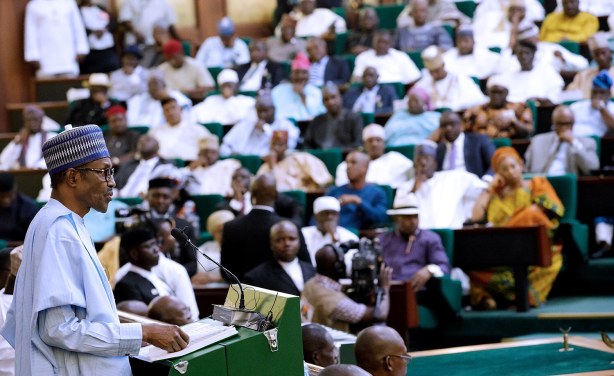 President Muhammadu Buhari.
Nigeria: How Nigerians Hastened My Declaration - Buhari

Guardian, 12 April 2018

President Muhammadu Buhari has clarified his Monday's declaration of intention to run for another term in office on the platform of the All Progressives Congress (APC). Read more »

Nigeria: 'Nobody Has the Right to Tell Buhari Not to Seek Re-Election'

Vanguard, 12 April 2018

Mr. Olatunbosun Oyintiloye, a member of Osun House of Assembly has described President Muhammadu Buhari decision to seek re-election in 2019 as a good omen to anti-corruption… Read more »

Nigeria: Why I Declared Before Trip to UK - Buhari

Daily Trust, 12 April 2018

President Muhammadu Buhari has said he declared his intention to run for another term in office earlier than he planned because the issue had dominated political discourse in the… Read more »

Nigeria: 2019 - Run, Buhari Run

Vanguard, 12 April 2018

Finally, President Muhammadu Buhari, to borrow a cliché, has decided to bite the bullet by declaring his intention to seek reelection in 2019. Read more »

Nigeria: Buhari Speaks On 2019 Bid - Farmers, Herders Clashes

Premium Times, 11 April 2018

President Muhammadu Buhari has said irresponsible brand of politics played by some unnamed persons was responsible for the perennial farmers/herders clashes that has claimed… Read more »

Nigeria: What I Discussed With Buhari - Archbishop of Canterbury, Justin Welby

Premium Times, 11 April 2018

The Archbishop of Canterbury, Justin Welby, on Wednesday afternoon made the update below on his Facebook Page Wednesday providing highlights of his discussions with President… Read more »

Nigeria: 2019 - Sierra Leone Electoral Commissioner Advises Nigeria

Premium Times, 12 April 2018

Ahead of the 2019 general elections, the head of Sierra Leone's National Electoral Commission (NEC), Miatta French, has urged Nigerians to vote their preferred candidates despite… Read more »

Nigeria: Buhari Is Pushing Nigeria to the Brink, Says PDP

Guardian, 12 April 2018

The Peoples Democratic Party (PDP) yesterday accused the President Muhammadu Buhari administration of pushing the country to the brink by breaching the constitution, the law and… Read more »

Nigeria: Buhari's 2nd Term Will Bring Igbo Closer to Presidency - Nwosu

Vanguard, 12 April 2018

Governor Rochas Okorocha's son-in-law, Mr Uche Nwosu, yesterday said that realisation of Buhari's second term in office will bring the Igbo closer to the presidency by 2023. Read more »

Nigeria: Re-Electing Buhari Will Perpetuate Suffering, Says Bishop Chukwuma

Guardian, 12 April 2018

The Archbishop, Enugu Ecclesiastical Province (Anglican Communion), Most Rev. Emmanuel Chukwuma, has said that re-electing President Muhammadu Buhari in 2019 would perpetuate… Read more »
InFocus
A group of Nigerians living in the UK has staged a protest after President Muhammadu Buhari declared his intention to enter the contest for another term in office as president of ... Read more »

President Muhammadu Buhari has formally announced he will seek re-election in 2019. Buhari took office on May 29, 2015 after defeating incumbent Goodluck Jonathan in the ... Read more »