Ethiopian PM Ahmed Visits Epicenter of Protests
For Demekech Biratu, a mother, and Tufa Tefera, a brother - both families of victims of state crackdown against civilians in Ambo city - things have changed for good since January 2016, writes Liyat Fekade for Addis Standard.
Prime Minister Abiy Ahmed has been appointed after Hailemariam Desalegn resigned in response to the ongoing protests and instability in the country.
Video
Author:

Addis Standard

Publisher:

Publication Date:

11 April 2018

Full speech in Afaan Oromoo delivered by Ethiopia's Prime Minister Dr. Abiy Ahmed in the historic city of Ambo, 125 km west of Addis Abeba and ... see more »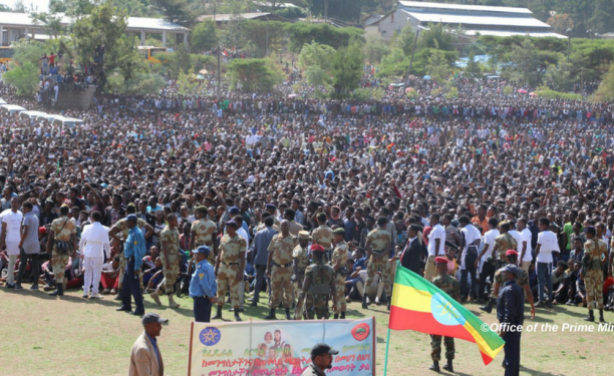 The crowd that attend Prime Minister Abiy Ahmed's speech in Ambo.
InFocus
Ethiopia's new prime minister, Abiy Ahmed, has apologised all to people harmed in recent political unrest and reached out to both the political opposition and longtime rival ... Read more »

With the appointment of Abiy Ahmed as chair of the ruling coalition, Ethiopia is set to have an Oromo leader for the first time in recent history. This is in no small part thanks ... Read more »

The multilingual Abiy Ahmed Ali was born in 1976 in Jimma region in the western part of the country. The son of a Muslim father and a Christian mother, he has been actively ... Read more »