'Tackle Codeine Abuse Like Fight Against Insurgency'
Ahmed Lawan, the leader of the Senate, has said that the fight against drug abuse in the country should be prosecuted the same way the fight against insurgency is being handled. Lawan said that considering the damage caused by substance abuse, particularly among Nigeria's youth, it was imperative that measures are in place to tackle the menace without delay.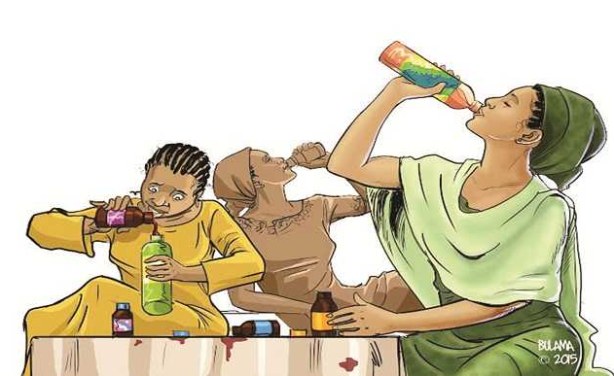 Codeine abuse in Nigeria.
Nigeria: Codeine Addiction - Nigeria Shuts Down Three Pharmaceutical Companies

Premium Times, 8 May 2018

The National Agency for Food and Drug Administration & Control (NAFDAC) has shut down three major pharmaceutical companies for their alleged involvement in the codeine syrup… Read more »

Africa: Codeine Syrup Addiction Is an Opioid Epidemic That Is Sweeping the African Continent

This is Africa, 8 May 2018

The opioid epidemic that was declared a public health emergency in America is now ravaging the youth of Africa. Unlike expensive opioid prescription drugs, codeine, found in… Read more »

Nigeria: Codeine Ban - Know the New 'Bride' Dextromethorphan

Daily Trust, 8 May 2018

Following the widespread abuse of codeine in the country, the Federal Ministry of Health recently directed the National Agency for Food and Drug Administration and Control (NAFDAC)… Read more »

Nigeria: Codeine Crisis - NAFDAC Shuts Emzor, Bioraj, Peace Standard Pharmaceuticals

This Day, 8 May 2018

The National Agency for Food and Drug Administration and Control (NAFDAC) has shut down Emzor Pharmaceuticals, Bioraj Pharmaceuticals and Peace Standard Pharmaceuticals for their… Read more »

Nigeria: Codeine Ban - Five Other Pharmaceutical Drugs Abused By Nigerians

Premium Times, 7 May 2018

The abuse of drugs among youth has become a disturbing trend in Nigeria. This recently led to the federal government's ban on codeine as an active pharmaceutical ingredient for… Read more »
InFocus
Apparently, most young boys and women cause a scene at the pharmacy when they're asked for a doctor's prescription - they get nasty and violent, to the point of trying to fight the ... Read more »

The National Agency for Food and Drug Administration and Control has raided four pharmaceutical companies after they were exposed for selling codeine cough syrup on the black ... Read more »

The health ministry announced the ban after an investigation showed the syrup is being sold on the black market and being used by young Nigerians to get high. Read more »