Kenya's Miguna Miguna Postpones Trip Back Home
National Revolutionary Movement leader and lawyer, Miguna Miguna, has cancelled his flight to Nairobi after the government declined to guarantee him unconditional re-entry to the country, as directed by court. Miguna was forced to leave the country for his participation in National Super Alliance leader Railla Odinga's swearing-in as the "People's President" on January 30. He was again refused entry into the country on March 26 after spending a few days in detention in a "filthy toilet" at Jomo Kenyatta International Airport.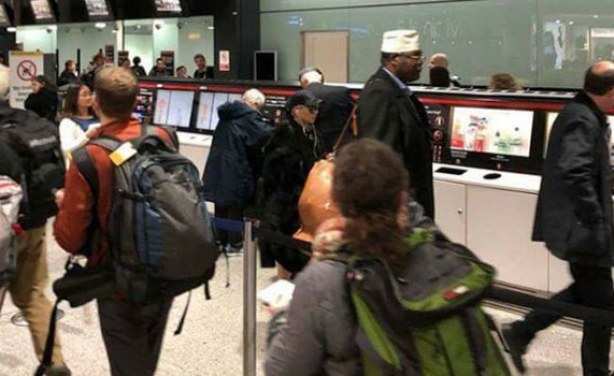 Miguna Miguna arriving at Jomo Kenyatta International Airport in March.
Kenya: Miguna Postpones Trip to Kenya

Miguna Miguna, 16 May 2018

In view of the refusal by the Department of Immigration to issue me with a valid Kenyan passport and facilitate my unconditional re-entry into Kenya as ordered by the High Court… Read more »

Kenya: Miguna Miguna May Not Return to Kenya Today, Says KNCHR

Nation, 16 May 2018

Controversial lawyer Miguna Miguna may not return to Kenya as anticipated today after all. Read more »

Kenya: Miguna Expected Back From Canada On Wednesday

Nation, 16 May 2018

Lawyers representing self-declared NRM general Miguna Miguna could be heading to court on Wednesday, the same day he is expected to arrive from Canada. Read more »

Kenya: Hang on to Your Seat as NRM 'General' Miguna Lands Today

Nairobi News, 16 May 2018

Lawyers representing self-declared NRM general Miguna Miguna could be heading to court on Wednesday, the same day he is expected to arrive from Canada. Read more »

Kenya: Miguna Coming Back Again

Capital FM, 15 May 2018

Controversial lawyer and self-declared general of the outlawed National Resistance Movement, Miguna Miguna, is expected in the country on Wednesday. Read more »

Kenya: Drama Awaits Miguna's Second Return

Capital FM, 14 May 2018

Drama awaits the return of deported Opposition activist Miguna Miguna from Canada on Wednesday after the State Department of Immigration declined a request to issue him with a… Read more »

Kenya: KNCHR Seeks Passport for Miguna's May 16 Return

Capital FM, 9 May 2018

The Kenya National Commission on Human Rights (KNCHR) has written to the State Department of Immigration asking for issuance of a fresh Kenyan passport to deported Opposition… Read more »
InFocus
Speaking before the parliamentary committee that oversees the Interior ministry, Cabinet Secretary Fred Matiang'i has defended the second deportation of the self-declared "general" ... Read more »

According to a senior government source, Miguna Miguna left the Dubai airport after producing his Canadian passport, which he had claimed to have lost during a three-day stand-off ... Read more »

High Court Judge George Odunga has ordered Interior Cabinet Secretary Fred Matiangi, police chief Joseph Boinnet and Immigration Principal Secretary Gordon Kihalangwa to pay a ... Read more »