Classes Resume as Kenyan Lecturers Return From Two Month Strike
The University Academic Staff Union have decided to go back to work after negotiations at the Ministry of Labour offices, which were led by Hellen Apiyo, a conciliator from the ministry. The union however, rejected the proposed 0.44% annual salary increment vowing to "apply complementary mechanisms" to achieve the 2017-2021 pay deal which is at the root of the industrial action.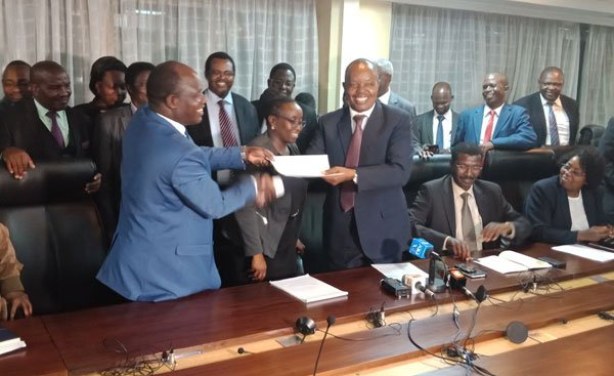 University Academic Staff Union Secretary-General Constantine Wasonga and Inter Public Universities Councils Consultative Forum Chairman Paul Kanyari exchange documents after signing a return to work formula.
Kenya: Lecturers Back to Class After 78-Day Strike Over Pay

Capital FM, 17 May 2018

The Universities Academic Staff Union (UASU) has signed a return to work formula with the government, ending a 78-day strike by public university lecturers that commenced on March… Read more »

Kenya: UASU to Meet on Way Forward After Rejecting Counter Offer

Capital FM, 16 May 2018

The Universities Academic Staff Union (UASU) leadership is set to meet on Wednesday to discuss the way forward after they rejected a government counter offer that proposed a 1.75… Read more »

Kenya: Striking Lecturers to Resume Pay Talks

Nation, 16 May 2018

Lecturers will on Thursday resume salary talks with the government days after rejecting an offer. Read more »

Kenya: UASU Rejects Govt Counter Offer as Strike Continues

Capital FM, 15 May 2018

The Universities Academic Staff Union (UASU) has rejected a government counter offer that proposed a 1.75 per cent increase in basic pay for four years, with no raise on the house… Read more »

Kenya: Lecturers' Strike to Continue as UASU Rejects Govt Deal

Nation, 14 May 2018

Learning in 31 public universities will continue to be paralysed after the lecturers' union rejected the government's salary offer. Read more »

Kenya: Amina Must Act Now or Face Varsities Ruin

Nation, 14 May 2018

Education Cabinet Secretary Amina Mohamed must take over negotiations and resolve the two-month strike by public university lecturers. She must read the riot act and compel the… Read more »

Kenya: Dons Set for Crunch Talks With Their Employer Over Strike

Nation, 12 May 2018

University staff and their employer are set for a meeting on Saturday starting at 10am, renewing hope that the prolonged dons' strike will be called off. Read more »
InFocus
Learning at Kenyatta University, Technical University of Kenya, University of Nairobi and other institutions have resumed after lecturers were forced to sign commitment letters as ... Read more »

The University of Nairobi has taken the lead by suspending 35 lecturers after they declined to return to work following the Labour Court's ruling that declared the pay strike ... Read more »

University Academic Staff Union Secretary-General, Constantine Wasonga, maintains that the strike will only be called off once a counter-offer has been tabled. The National ... Read more »