Super Eagles - Wasted Chances at Goal or Robbed by Referees?
Opinions are divided after the Nigerian players lost their do-or-die match against Argentina, with some saying they had play in a hostile atmosphere but "gave everything" on the pitch. Others believe that the Super Eagles were the architects of their misfortune, but fans came to their defence. Nigeria are now out of the 2018 Fifa World Cup.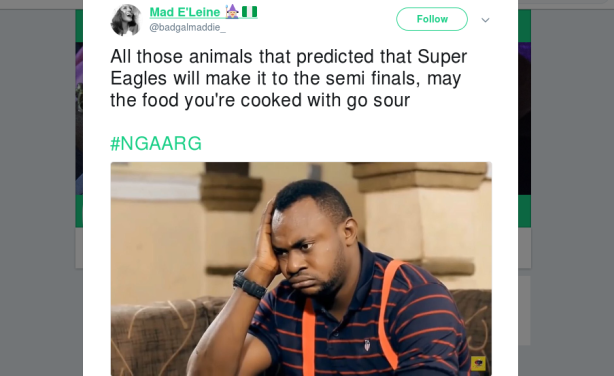 All those animals that predicted that Super Eagles will make it to the semi finals, may the food you're cooked with go sour #NGAARG, tweeted Mad E'Leine.
Nigeria: Super Eagles' World Cup Exit and Matters Arising

Leadership, 29 June 2018

It is no longer news that Nigeria's participation at the ongoing 2018 World Cup in Russia is over after a 1-2 defeat to Argentina in their final group stage match on Tuesday. Read more »

Nigeria: I'm Sad Losing to Messi Again, Mikel Laments

Vanguard, 29 June 2018

Super Eagles captain John Obi Mikel is yet to get over the team's ouster from the FIFA World Cup tournament. Read more »

Nigeria: How Eagles, La Albiceleste Game Left Passengers Stranded, Fans Deflated

Guardian, 29 June 2018

During the Eagles versus La Albiceleste match, a lot of passengers were left stranded at various bus stops, as commercial drivers joined millions of other Nigerians to watch the… Read more »

Nigeria: Musa Thanks Nigerians for Show of Support

Vanguard, 29 June 2018

Super Eagles striker Ahmed Musa said he was very grateful to Nigerian fans, for their overwhelming support during their campaign at the FIFA World Cup in Russia. Read more »

Nigeria: Rohr Wants to Stay On With Eagles

Vanguard, 28 June 2018

Super Eagles coach, Gernot Rohr expressed his desire to stay on with the Super Eagles and lead them out to another World Cup in four years time. Read more »

Nigeria: Sports Minister Gives Reasons for Eagle's World Cup Ouster, Apologises to Nigerians

Premium Times, 28 June 2018

Solomon Dalung, Minister of Youth and Sports, on Wednesday described Nigeria's 1-2 loss to Argentina as unfortunate. Read more »

Nigeria: World Cup - So Close, Yet So Far for Nigeria

Vanguard, 28 June 2018

The day began with an unusual overflow of Argentines into the Park Inn Media Hotel of Saint Petersburg. Their stripe jerseys and face-paintings were unmistakable. They flocked… Read more »

Nigeria: I'm Sorry for the Missed Chances - Ighalo

Vanguard, 28 June 2018

Super Eagles striker Odion Ighalo said he takes responsibility for the missed opportunities that came the way of the team in their last group D match against Argentina. Read more »

Nigeria: Eagles Depart St Petersburg After Exit From World Cup

This Day, 28 June 2018

After exiting the ongoing FIFA World Cup here in Russia on Tuesday night with the 2-1 loss to Argentina, some members of the Super Eagles are expected to touch down in Nigeria… Read more »

Nigeria: Referee Not to Blame for Eagles' Ouster - Here's What Went Wrong

Premium Times, 27 June 2018

With a migraine and a bruised hand (hitting the wall in frustration), I write this. For the fifth time in World Cup tournaments, Argentina beat Nigeria, with a one-goal margin. The… Read more »

Nigeria: Why Referee Refused to Give Super Eagles Penalty Kick - Mikel

Premium Times, 27 June 2018

Super Eagles captain John Mikel Obi has spoken on the real reason why Turkish referee Cuneyt Cakin refused to give Nigeria a second penalty in Tuesday's game against Argentina. Read more »

Nigeria: Argentina 2 - 1 Nigeria (Player Ratings) - Super Eagles' Efforts Not Good Enough

Premium Times, 27 June 2018

Four minutes to a new history, four minutes to keep Argentina out, but Argentina's left back, Marcus Rojo, found a way just like he found in 2014 in Brazil. But this time, the… Read more »

Nigeria: Enyeama, Okocha React to Eagle's World Cup Exit

Premium Times, 27 June 2018

Former Super Eagles goalkeeper, Vincent Enyeama, has commended the team and urged Coach Gernot Rohr to build for better days after their heartbreaking exit from the Russia 2018… Read more »

Nigeria: Russia 2018 - It Was Not Easy Defeating Nigeria - Messi

Premium Times, 27 June 2018

Lionel Messi, the Argentine ace player, who scored the opening goal against Nigeria in the last group D match of the FIFA World Cup in Russia has referred to the encounter as 'a… Read more »

Africa: The Western Media and Its Biased Reportage Against African Teams

This is Africa, 25 June 2018

The biased reporting by the Western media against African teams at the World Cup is disconcerting. The narratives espoused by some media houses paint the victories of African teams… Read more »

Nigeria: Nigeria Vs Argentina - Super Eagles Squandered So Many Goal Scoring Chances - Fans

Vanguard, 27 June 2018

Nigeria vs Argentina - Some football fans on Tuesday in Abuja expressed disappointment with the Super Eagles' World Cup exit following the team's 1-2 loss to Argentina in their… Read more »

Nigeria: Biased Commentary Leaves Nigerian Fans Seething With Rage

Nairobi News, 27 June 2018

Nigerian fans at the ongoing Fifa World Cup tournament were a disappointed lot not just by the defeat to Argentina but also the statements of the match commentators. Read more »

Nigeria: Reactions of Heartbroken Nigerians Over Argentina Loss

Guardian, 26 June 2018

It was a distressing moment in Nigeria as they played against Argentina. Full of hope and leaving their fate in the hands of the Super Eagles, the cat and pig, Nigerians were… Read more »
InFocus
Argentina have again stopped Nigeria's progress, allAfrica's Melody Chironda said after watching a late Marcos Rojo goal give Argentina a dramatic victory over Nigeria. Read more »