Chinese Leader Xi Jinping on Four-Nation Tour of Africa
Chinese President Xi Jinping signed 15 bilateral agreements with Rwanda while visiting the East African country, the second stop on a four-nation tour to cement relations with African allies. Xi was in Senegal on Saturday and is set to journey to South Africa for a BRICS summit that starts on Wednesday. Finally, Xi will stop in the Indian Ocean island nation of Mauritius.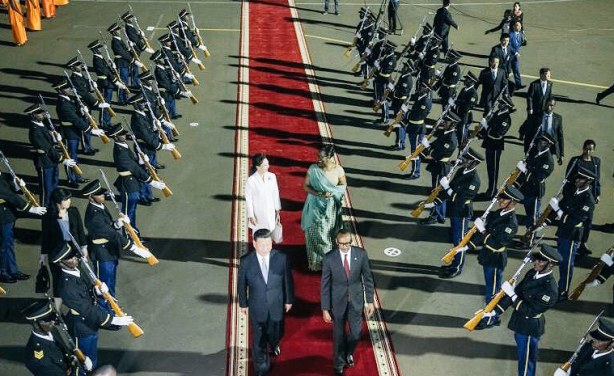 Chinese President Xi Jinping arrives in Rwanda.
Rwanda: Chinese President Xi Jinping Arrives in Rwanda for a Two-Day State Visit

Rwanda Govt, 23 July 2018

President Xi Jinping and First Lady Peng Liyuan of China arrived on Sunday evening in Rwanda for a two-day State Visit. Upon arrival at the Kigali International Airport, the… Read more »

Rwanda: Highlights of Rwanda-China Relations

New Times, 23 July 2018

Chinese President Xi Jinping arrived in the country last evening for a two-day state visit. Jinping's visit follows President Paul Kagame's visit to China last year. It marks the… Read more »

Africa: Chinese Pres On 3 African Nations Visit

Ghanaian Times, 23 July 2018

Chinese President Xi Jinping and Senegalese President Macky Sall held talks here Saturday, vowing to create a better future for China-Senegal ties. Read more »

Rwanda: President Xi Jinping's Statement

New Times, 23 July 2018

July 22, 2018 - I am very pleased to pay a state visit to the beautiful Republic of Rwanda at the invitation of President Paul Kagame. I wish to take this opportunity to convey the… Read more »

Rwanda: Xi Arrives as Rwanda, China Seek Stronger Ties

New Times, 23 July 2018

President Xi Jinping and First Lady Peng Liyuan of China arrived in Rwanda yesterday evening at 8:30 p.m to begin a two-day state visit. Read more »

South Africa: President Cyril Ramaphosa Receives Courtesy Call From President Xi Jinping of China

Govt of SA, 19 July 2018

His Excellency President Cyril Ramaphosa will on Tuesday, 24 July 2018, host the President of the People's Republic of China, His Excellency Mr Xi Jinping, on a State Visit to… Read more »

Rwanda: Deals on the Cards As Xi Jinping Visits Rwanda

East African, 14 July 2018

Chinese President Xi Jinping will arrive in Rwanda on July 22 for a two-day state visit, during which he is expected to sign a number of agreements on trade, investment,… Read more »
InFocus
China wants to redefine its military engagement in Africa and has invited military officials from across the continent to Beijing to explore new forms of strategic cooperation, ... Read more »

"Chinese investment does have the potential to address Africa's infrastructure gap, but its approach has led to mounting debt and few, if any, jobs in most countries," U.S. ... Read more »