Ethiopian Prime Minister Calls for Multiparty Democracy
Ethiopia's reformist Prime Minister Abiy Ahmed has said that Ethiopia has "no option" but to pursue multiparty democracy.
Although Ethiopia allows competing parties, the country has been ruled by a single coalition, the Ethiopian People's Revolutionary Democratic Front, since it rose to power in 1991.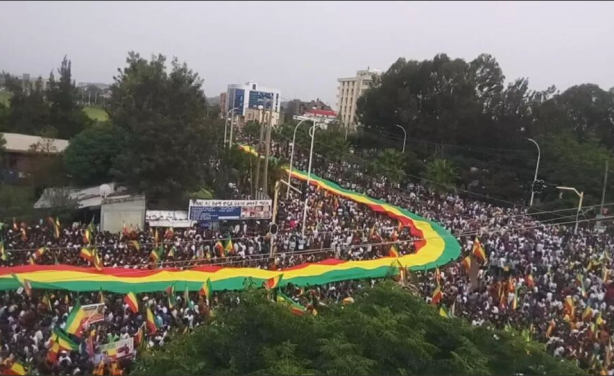 Residents of Bahir Dar, the capital of the Amhara regional state, & its environs rallying in support of PM Abiy Ahmed's reform agenda & condemning the bomb attack at similar rally in Addis Abeba (file photo).
Ethiopia: Defending Spirit of Change

Ethiopian Herald, 19 July 2018

The overall reform in Ethiopia is well underway, and is creating sense of optimism among citizens. Particularly, the reconciliatory tone of Ethiopia's Prime Minister Abiy Ahmed has… Read more »

Ethiopia: League Vows to Support PM Abiy's Reform

Ethiopian Herald, 18 July 2018

ADDIS ABABA- Members of the Addis Ababa EPRDF Youth League expressed their commitment to support Prime Minister Dr. Abiy Ahmed's reforms to ensure togetherness and combat the… Read more »
InFocus
An attack apparently targeting Prime Minster Abiy Ahmed has overshadowed the radical reform process he has initiated. It also signals the start of a new power struggle in the ... Read more »

U.S. Ambassador to Ethiopia Mike Raynor sat down with Addis Standard to discuss leadership, reforms and the relationship between the two countries. Read more »