Zimbabwe Opposition Protesters in Court Over Post-Vote Violence
Twenty-two opposition activists are facing charges of inciting violence and causing malicious damage to the ruling ZANU-PF party offices. They were remanded in custody until a bail hearing on Monday. At least six people died after troops in the capital Harare opened fire on demonstrators, sparking an international outcry.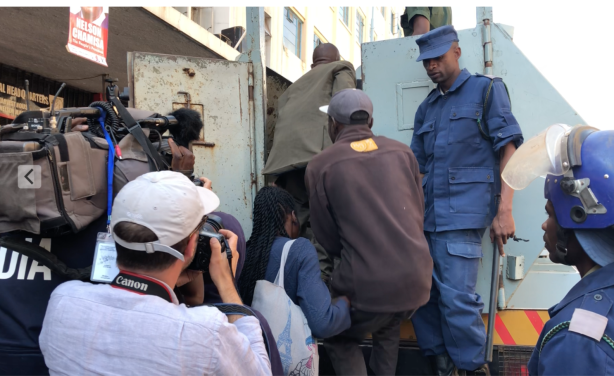 Zimbabwe police apprehend people they had found inside opposition Movement for Democratic Change Alliance offices in Harare following a raid there, Aug. 2, 2018. The people were arrested for leading protests that turned violent.
Zimbabwe: Opposition Supporters Charged With Inciting Electoral Violence

Deutsche Welle, 4 August 2018

Opposition supporters stand accused of 'committing public violence' in the wake of contested elections claimed by incumbent President Emmerson Mnangagwa. His main rival says he… Read more »

Zimbabwe: Bail Hearings Delayed for Zimbabwe Opposition Protesters

VOA, 5 August 2018

Twenty-two opposition activists, facing charges of inciting violence and causing malicious damage to the ruling ZANU-PF party offices, were told Saturday to return to court Monday… Read more »

Zimbabwe: What MDC Violence! Zanu-PF Is Home to the Godfathers of Genocide

New Zimbabwe, 4 August 2018

FROM independence, the nationalist government did not intend to hand over power to any other organisation that was not Zanu PF. Read more »

Zimbabwe: Civilian Killings By Army Dent Peaceful Zimbabwe Poll

New Zimbabwe, 5 August 2018

THE United States of America says the use of live ammunition by Zimbabwe's armed forces leading to the death of six civilians in Harare last Wednesday has dented what was set to… Read more »

Zimbabwe: MDC Alliance Mulls Merging Into a Single Party

New Zimbabwe, 5 August 2018

MDC Alliance spokesperson Welshman Ncube has hinted on the possibility of the popular opposition coalition further merging into one single political party. Read more »

Zimbabwe: Amnesty International Urges Probe Into Army Killings

New Zimbabwe, 5 August 2018

Global rights lobby, Amnesty International has urged the Zimbabwe government to put up a prompt and effective investigation into army killings on six people and the injury of a… Read more »
InFocus
Emmerson Mnangagwa has called for unity in the wake of allegations his election victory was tainted by fraud. Opposition leader Nelson Chamisa has described the president's victory ... Read more »