Zimbabwe Opposition Leader Biti to Challenge Zambia Deportation
Senior member of the Movement for Democratic Change Alliance Tendai Biti's lawyers will challenge Zambia's decision to deny him political asylum and hand him back to Zimbabwean authorities. Biti is among opposition leaders who have questioned the outcome of the presidential elections, in which Zanu-PF won a constitutional majority and its leader, Emmerson Mnangagwa, was elected president.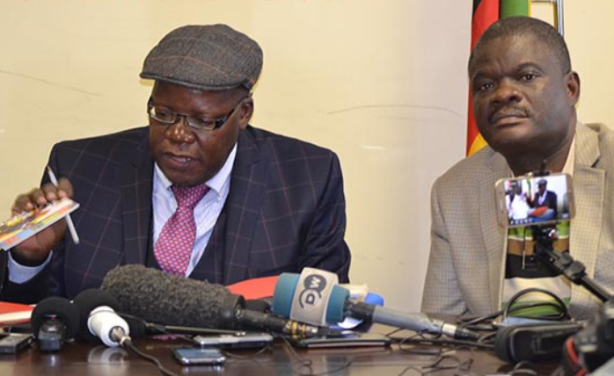 MDC-Alliance officials Tendai Biti and Morgan Komichi (file photo).
Zambia: Opposition Fears U.S. Sanctions Over Biti Debacle

New Zimbabwe, 13 August 2018

Zambia's opposition is worried that the United States might cut aid to the southern Africa country after the government refused to grant Tendai Biti political asylum. Read more »

Zimbabwe: Biti Tells Court of Dramatic Escape Bid, Night in Toilet

New Zimbabwe, 11 August 2018

MDC Alliance principal Tendai Biti related before a Harare court Friday the gripping tale of his dramatic escape bid to neighbouring Zambia with suspected state agents in deadly… Read more »

Zimbabwe: Opposition Leader Biti Challenges Court's Jurisdiction

The Herald, 11 August 2018

MDC Alliance principal Tendai Biti, who is facing charges of inciting violence, was yesterday back in court challenging the jurisdiction of the court to hear his matter considering… Read more »

Zimbabwe: Opposition Co-Leader Tendai Biti Held At Zambian Border

Daily Maverick, 8 August 2018

Fears have been expressed for the safety of MDC Alliance co-leader Tendai Biti, who was arrested on Wednesday on the Zambian border as he tried to seek asylum from Zimbabwe's… Read more »

Zimbabwe: Mnangagwa's Biti Tweet Raises Eyebrows

Zimbabwe Standard, 12 August 2018

President Emmerson Mnangagwa's claim that former Finance minister Tendai Biti was released on bail following his intervention undermined the public's confidence in the judicial… Read more »

Zimbabwe: Authorities Charge Biti Aides With Violating Immigration Laws

Kubatana.net, 10 August 2018

Human rights lawyer and one of MDC Alliance party leader Tendai Biti on Friday 10 August 2018 narrated his persecution ordeal which forced him to seek political asylum in… Read more »
InFocus
MDC Alliance co-principal Tendai Biti has been freed on $5,000 bail by a Harare magistrate, but banned from issuing any political statements during his impending trial. The Harare ... Read more »

The Zambian government has said MDC Alliance politician Tendai Biti's grounds are not worth the relief he is seeking, and that he should return to Harare and answer to allegations ... Read more »