Zambia Denies Asylum to Zimbabwe Opposition's Biti
The Zambian government has said MDC Alliance politician Tendai Biti's grounds are not worth the relief he is seeking, and that he should return to Harare and answer to allegations in a legitimate court of law. Biti is being sought by the police over allegations of inciting violence that rocked Harare following elections and his illegal declaration of MDC-Alliance presidential candidate Nelson Chamisa as the winner.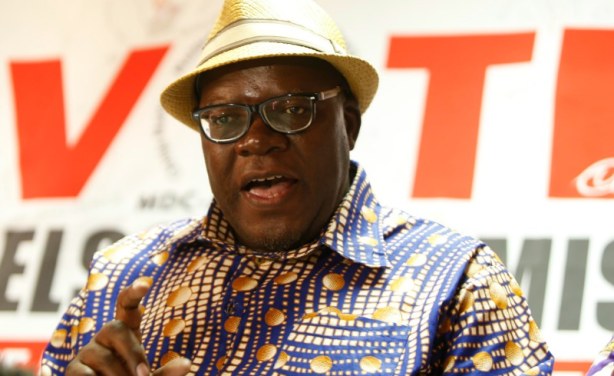 MDC Alliance principal Tendai Biti.
Zimbabwe: Biti Released, Now Safe on Zambian Territory

New Zimbabwe, 8 August 2018

MDC Alliance co-principal, Tendai Biti, arrested Wednesday while trying cross into neighbouring Zambia to seek asylum, has been released and is reportedly on his way to Lusaka to… Read more »

Zimbabwe: Foiled Biti Arrest, Police Reveal the Dramatic Details

New Zimbabwe, 8 August 2018

There was drama at Chirundu Border Post as former finance minister and MDC Alliance principal Tendai Biti evaded arrest and sought asylum in neighbouring Zambia on Wednesday. Read more »

Zimbabwe: Biti's Brother Up for Car Theft, Claims Police Torture

New Zimbabwe, 9 August 2018

MDC Alliance co-principal Tendai Biti's brother, Stephen Tirivangani Biti was Wednesday dragged to court after he was allegedly caught driving a stolen car. Read more »

Zimbabwe: Biti Arrested While Trying to Seek Zambian Asylum

New Zimbabwe, 8 August 2018

MDC Alliance co-principal Tendai Biti has been arrested as government intensifies its crackdown on opposition leaders and their supporters linked to the post-electoral violence… Read more »

Zimbabwe: Opposition Leader Biti Arrested at Border

The Herald, 8 August 2018

MDC Alliance principal Tendai Biti has been arrested at the Zimbabwe-Zambia border while trying to flee the country to seek asylum in neighbouring Zambia. Read more »
InFocus
Top opposition MDC Alliance officials Tendai Biti, Morgan Komichi and seven others have been accused of inciting the deadly post-election violence that rocked Harare. The ... Read more »

Sylvia Matambo-Maphosa was shot in her back in Harare when soldiers fired at youths who violently protested the opposition MDC Alliance's electoral defeat to Zanu-PF in the ... Read more »

Twenty-two opposition activists are facing charges of inciting violence and causing malicious damage to the ruling ZANU-PF party offices. They were remanded in custody until a bail ... Read more »