Buhari Walks 800 Metres to 'Prove Fitness for 2019 Polls'
The Presidency has said that President Muhammadu Buhari has demonstrated his fitness to run for a second term by trekking 800 metres from the Eid praying ground in Daura to his private residence. Buhari has come under a lot of criticisms about his health. He has travelled outside Nigeria on several occasions for medical check-up.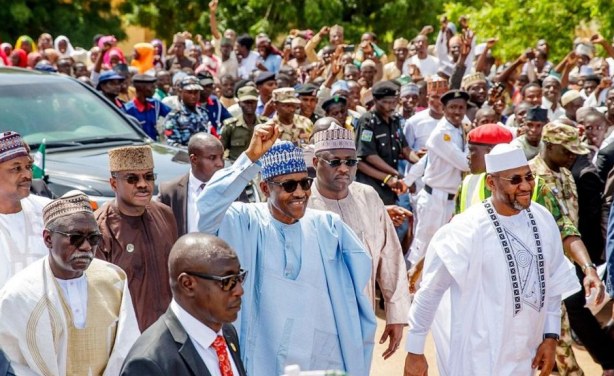 President Muhammadu Buhari walks home from Eid praying ground.
Nigeria: With 800-Meter Walk, Buhari Fit for 2019, Says Presidency

This Day, 22 August 2018

The Presidency was upbeat yesterday as it declared President Muhammadu Buhari fit to face the rigours of next year's presidential contest slated for February, citing the… Read more »

Nigeria: Buhari Marks Eid-El-Adha With Prayers, 800 Metres Walk

Leadership, 21 August 2018

President Muhammadu Buhari Tuesday joined the Emir of Daura, Alhaji Umar Farouk and other Muslim faithful, to observe the Eid prayers at Kofar Arewa Eid Ground, Daura, Katsina… Read more »

Nigeria: Buhari Treks 800 Metres Back Home After Eid El-Kabir Prayer in Daura

Premium Times, 21 August 2018

President Muhammadu Buhari on Tuesday joined thousands of Muslim faithful to observe the Eid el-Kabir prayer in Daura, Katsina State. Read more »

Nigeria: 2019 Election a Walkover for Buhari, APC - Lai Mohammed

Premium Times, 22 August 2018

The Minister of Information and Culture, Alhaji Lai Mohammed, has urged Nigerians to resist the temptation of voting for those who will return the country to throes of massive… Read more »

Nigeria: Buhari Walks 800 Metres to 'Prove Fitness for 2019 Polls'

Guardian, 22 August 2018

President Muhammadu Buhari yesterday "demonstrated his fitness" to continue in office. Read more »

Nigeria: Buhari Not Voodoo Leader - BMO Faults Saraki On INEC Budget

Vanguard, 21 August 2018

President Muhammadu Buhari does not believe in voodoo arrangements or magic and would always work with facts and verified figures, the Buhari Media Organization (BMO) said today. Read more »

Nigeria: Presidency Replies Tambuwal As Buhari Treks 800 Metres

Leadership, 21 August 2018

The Presidency said President Muhammadu Buhari has demonstrated his fitness to run for a second term by trekking 800 metres from the Eid-praying ground in Daura to his private… Read more »
InFocus
President Muhammadu Buhari has asked Nigerians to rise above personal, group, sectarian and other interests, and promote harmony and tolerance in dealing with one another at all ... Read more »

The main opposition parties have formed an alliance to field a joint candidate to challenge President Muhammadu Buhari in next year's presidential election, and at least 20 ... Read more »