Could Afonso Dhlakama's Brother Take Over Renamo Leadership?
Mozambique's main opposition party, Renamo, has denied claims that Elias Dhlakama, the younger brother of the late Renamo leader Afonso Dhlakama, wants to take over the leadership of the party. Before his death, Afonso Dhlakama advised his brother to leave the army but Elias refused, and in 2015 he was promoted to the rank of brigadier. Now there's speculation swirling that he could join politics - although he has to quit the army first.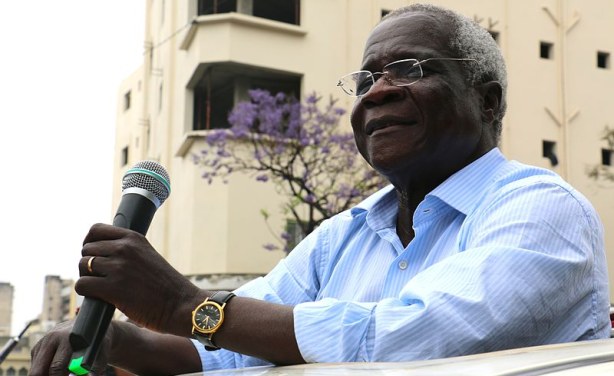 The late Afonso Dhlakama (file photo).
Mozambique: Renamo Promises 24 Football Fields for Maxixe

AIM, 30 September 2018

Mozambique's main opposition party, the former rebel movement Renamo, has promised to build 24 football fields in the next five years, if it wins the 10 October municipal elections… Read more »

Mozambique: Peace Talks Could Undergo New Dynamic

AIM, 25 September 2018

The negotiations between the Mozambican government and the former rebel movement Renamo to achieve a definitive peace could undergo a new dynamic as from October, the chairperson… Read more »

Mozambique: Constitutional Council Rejects Renamo Appeal

AIM, 18 September 2018

For the second time, Mozambique's Constitutional Council, the country's highest body in matters of constitutional and electoral law, has rejected an attempt by the country's main… Read more »

Mozambique: Integration of Renamo Men Going Ahead 'As Planned'

AIM, 12 September 2018

Mozambique's Deputy Defence Minister, Patricio Jose, on Wednesday, said that the demilitarisation of the former rebel movement Renamo is going ahead with any major hitches. Read more »

Mozambique: Police Prevent Another Maputo March By Renamo

AIM, 29 August 2018

The Mozambican police on Tuesday once again prevented Venancio Mondlane, the candidate of the main opposition party, the former rebel movement Renamo, from marching through the… Read more »
InFocus
Renamo has named Ossufo Momade as its interim leader after Afonso Dhlakama, who had headed the party for almost four decades, died unexpectedly. Ossufo Momade is a former ... Read more »

Afonso Dhlakama, a thorn in the side of Mozambique's ruling Frelimo party for nearly four decades, has died in the remote mountains of Gorongosa, where he had been since 2013 as ... Read more »

"President Filipe Nyusi announced a decentralisation deal with Renamo President Afonso Dhlakama that increases the power of both presidents and their parties. No announcement was ... Read more »