Nigerian Extremists Execute Another Young Medical Worker
Hauwa Liman, a young medical worker, was executed by IS-affiliated extremists, according to The Cable. Liman and Alice Loksha, a midwife and nurse, were threatened with execution in northeast Nigeria, where they were saving lives of the poorest of the poor and ushering babies into the world. The International Committee of the Red Cross appealed to Nigeria's government and public to pressure Boko Haram, which abducted the young medical workers seven months ago, to spare them. The group killed midwife Saifura Khorsa last month and holds 15-year-old student Leah Sharibu, who was kidnapped in February. The Nigerian government said it is shocked and saddened at the Monday killing.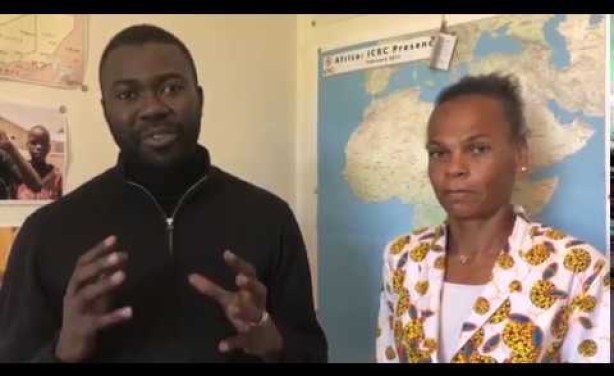 ICRC made an urgent appeal to IS-affiliated abductors in Nigeria to spare two young women, a nurse and midwife.
Nigeria: Second ICRC Midwife Hauwa Liman Executed

Deutsche Welle, 16 October 2018

The execution of the 24-year-old was filmed and sent to a Nigerian news platform. Hauwa Liman had been kidnapped from the refugee center where she was working with two other… Read more »

Nigeria: Boko Haram Kills Another Aid Worker

This Day, 15 October 2018

Boko Haram has executed Hauwa Amina Liman, one of the two aide workers with the International Committee of the Red Cross (ICRC), the Federal Government has confirmed. Read more »
Video
Publisher:

ICRC

Publication Date:

14 October 2018

The International Committee of the Red Cross (ICRC) is making an urgent public appeal to the Nigerian Government and to communities and individuals ... see more »
Nigeria: Boko Haram - Red Cross Sends Urgent Message to Nigerian Govt Over Kidnapped Health Workers

Premium Times, 14 October 2018

The International Committee of the Red Cross (ICRC) has raised an alarm over the 24 hours deadline given by Boko Haram to eliminate another female staff held captive by the… Read more »

Nigeria: Saraki Condemns Killing of Humanitarian Worker By Boko Haram

Daily Trust, 15 October 2018

President of the Senate, Dr. Abubakar Bukola Saraki, has condemned the killing of Red Cross worker, Hauwa Leman by Boko Haram. Read more »

Nigeria: Northern Christians, Muslims Beg Boko Haram Not to Kill Leah Sharibu

Leadership, 15 October 2018

Christian and Muslims leaders in Northern Nigeria have appealed to the Boko Haram sect not to kill Leah Sharibu, one of the Dapchi school girls it abducted . Read more »

Nigeria: 24-Year-Old Nigerian Medical Worker Might Be Executed Today - ICRC

Guardian, 15 October 2018

Peter Maurer, president of the International Committee of the Red Cross (ICRC), has called on the Nigerian government and the masses to save Hauwa Mohammed Liman, a 24-year-old… Read more »

Nigeria: ICRC Risks Losing Two Workers to Islamic Group in North East Nigeria

This is Africa, 15 October 2018

Looming deadline: Today could be the last day we hear of Hauwa Mohammed Liman and Alice Loksha if the Nigerian government doesn't act swiftly. The two women were kidnapped in March… Read more »

Nigeria: ICRC Makes Last-Minute Appeal for Endangered Health Workers

ICRC, 14 October 2018

The International Committee of the Red Cross (ICRC) is making an urgent public appeal to the Nigerian Government and to communities and individuals with influence to work toward… Read more »
InFocus
Twenty-five-year-old midwife Saifura Khorsa, working with the United Nations and the International Committee of the Red Cross in a remote area of northeast Nigeria, was murdered ... Read more »