Speculation Mounts Over Health of Zimbabwe's Chiwenga, Moyo
Vice President Constantino Chiwenga and Foreign Affairs Minister Sibusiso Moyo, who have been reported to be seriously ill, are receiving treatment in South Africa at a time the country's crippled health sector is facing a critical shortages of medicine. The health of the former generals has led to wide speculation over their political future.
Zimbabwe: VP Chiwenga On the Mend

The Herald, 15 October 2018

Vice President Constantino Chiwenga is recovering well at a South African hospital where he is receiving some thorough medical attention on the effects of the Bulawayo bombing… Read more »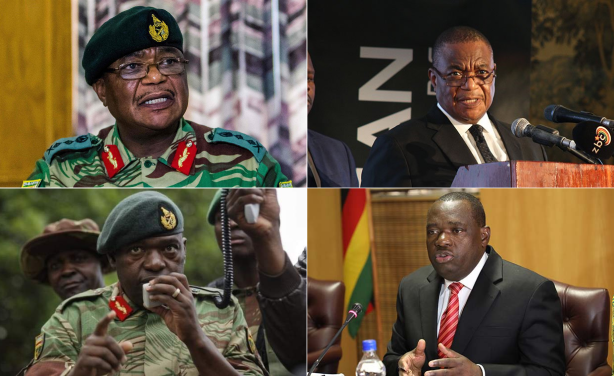 VP Constantino Chiwenga and Minister Sibusiso Moyo were both army Generals before the military takeover that led to former president Robert Mugabe's resignation.
Southern Africa: VP Chiwenga 'Barking Orders' From South African Hospital

New Zimbabwe, 15 October 2018

Vice president Constantino Chiwenga is hospitalised in South Africa, the presidency admitted Monday, adding that he was expected to return home this week. Read more »

Zimbabwe: Govt Avails U.S.$7 Million for Drugs

The Herald, 15 October 2018

Government has availed nearly US$7 million for the purchase of medicines, a development set to ease drug shortages and price distortions. Some pharmacies were closed last week and… Read more »

Zimbabwe: Unwell SB Moyo Airlifted to SA as Chiwenga Vomits in Cabinet

New Zimbabwe, 5 October 2018

Ailing Foreign Affairs Minister Sibusiso Moyo has reportedly been airlifted to South Africa for further treatment after spending two weeks admitted at the upmarket Avenues Clinic… Read more »

Zimbabwe: Ruling Party's Wadyajena Sends Out Prayers to Minister Moyo

263Chat, 25 September 2018

Gokwe-Nembudziya legislator, Justice Mayor Wadyajena has send out prayers to the Minister of Foreign Affairs, Sibusiso Moyo who is currently battling a kidney related ailment at… Read more »

Zimbabwe: Drug Shortages - the Dynamics

The Herald, 11 September 2018

In recent months, Zimbabwe has experienced a shortage of one of the most critical drugs for the management of tuberculosis (TB) in its first two months of diagnosis. This tablet, a… Read more »
InFocus
After peacefully electing President Emmerson Mnangagwa in July, many hoped the country would emerge from turmoil and return to prosperity. Instead, it appears to be imploding since ... Read more »

Defence and War Veterans Affairs Minister Oppah Muchinguri-Kashiri has claimed that no one was killed during the military takeover that toppled former president Robert Mugabe. ... Read more »

Zimbabwe has only two forensic pathologists in the public sector according to Health and Child Care Minister Obadiah Moyo - forcing families to wait for weeks before they can bury ... Read more »