Kanye West Gives Museveni Yeezy Sneakers
President Yoweri Museveni says he and the American rapper held "fruitful discussions" about promoting tourism and arts.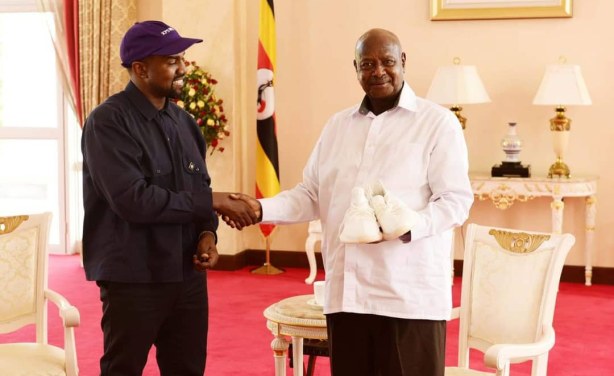 "I welcome American entertainment stars Kanye West and @KimKardashian to Uganda. I held fruitful discussions with the duo on how to promote Uganda's tourism and the arts. I thank Kanye for the gift of white sneakers. Enjoy your time in Uganda. It is the true Pearl of Africa."
Uganda: Kanye West Should Not Stop At Animals, Rivers and the Rolex

Monitor, 16 October 2018

For many African countries, tourism is associated with breath-taking natural features and wildlife that roams in the beautiful landscapes of the Savannah. Thus our marketing… Read more »

Uganda: Kanye West Gives Museveni Yeezy Sneakers

Monitor, 15 October 2018

American rapper Ye, formerly Kanye West, currently on a private visit to Uganda, has visited President Museveni at State House, in Entebbe. Read more »

Uganda: Museveni Meets Kanye West and Ugandans Want a Collabo

Nairobi News, 15 October 2018

Ugandan President Yoweri Museveni on Monday hosted American rapper Kanye West and his reality TV star wife Kim Kardashian at State House, Kampala. Read more »
InFocus
The controversial rapper took to Twitter to give an impromptu musical performance from the African country, where he is recording his new album. Read more »