Seun Kuti Gets Grammy Nod in Best World Music Album Category
The popular afrobeat singer has been nominated for the 61st Grammy Awards for his album, Black Times. Seun Kuti features tracks that mirrors the common problems of leadership confronting many African countries. The ceremony is scheduled to hold in February, 2019.
Nigeria: A Grammy Win for Seun Kuti?

This Day, 8 February 2019

Vanessa Obioha writes that the Fela-Kuti sons, Femi and Seun have set a record as the first Nigerian blood brothers to get a nod from The Recording Academy Awards, better known as… Read more »

Nigeria: Seun Kuti Bags Grammy Nomination

Premium Times, 27 October 2018

Seun Kuti's fourth album, "Black Times" album has been nominated in the Best World Music Album category at the Grammy Awards. Read more »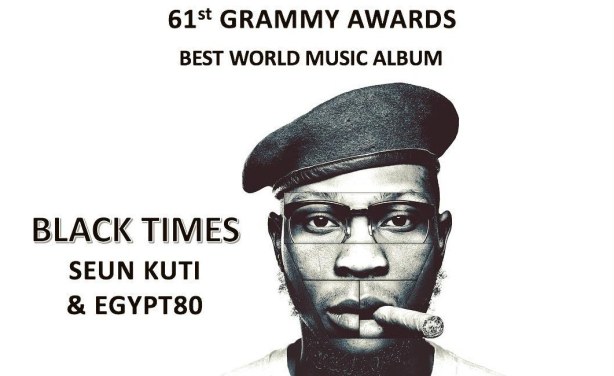 Seun Kuti's Black Times album gets nominated for Grammy Awards 2019.
Nigeria: Seun Kuti, Blows Hot - Recounts Horrible Childhood Experiences

Vanguard, 30 October 2018

Seun Kuti, son of late afro-beat maestro, Fela Anikulapo-Kuti, has warned musicians claiming to live his father's musical legacy to stay away. Read more »

Nigeria: Seun Kuti Slaps, Bullies Security Guard At Afrikan Shrinee

Vanguard, 20 October 2018

Disaster was quickly averted on Wednesday night, the third day of Felabration 2018, at the VIP/Artiste lounge of the New Afrikan Shrine, when Seun Kuti lost his temper over a staff… Read more »

Nigeria: What Felabration Means to Anikulapo Family - Seun Kuti

Vanguard, 17 October 2018

Seun Kuti, afro-beat singer and one of late Fela Anikulapo-Kuti's sons, has explained what the annual Felabrationmusic festival, usually held at the New Afrika Shrine to celebrate… Read more »

Nigeria: Seun Kuti Calls Out Kanye West Over Comments About Fela

Guardian, 14 October 2018

Seun Kuti, the son of late legendary Nigerian singer, Fela Anikulapo-Kuti has slammed American rapper, Kanye West who took to Instagram to brag about making the best music in the… Read more »