One Strike Too Many in Nigeria?
Striking has become essential for unions and workers dissatisfied with labour conditions in Nigeria. The Academic Staff Union of Universities has asked its members to begin an indefinite nationwide strike over poor funding of universities, while labour unions are threatening to strike after failed negotiations with the government on working conditions and the minimum wage. Those two bodies could be joined by workers in the aviation industry, who also want to embark on industrial action.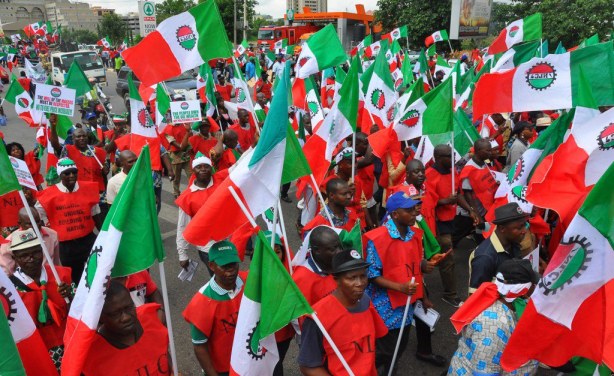 Labour union strikes.
Nigeria: Labour and Wage Increases - Barking Up the Wrong Tree!

Vanguard, 5 November 2018

In December 2017, President Buhari established a Tripartite Committee - comprising Labour Leaders, Federal and State Government representatives, to consider and recommend an… Read more »

Nigeria: ASUU Begins Strike

Vanguard, 4 November 2018

Academic Staff Union of Universities, ASUU has commenced strike. Read more »

Nigeria: Minimum Wage - NNPC Assures of Fuel Supply As Strike Looms Across Nigeria

Premium Times, 4 November 2018

Joint NLC, TUC, ULC nationwide protest over alleged recalcitrance of government and employers to pay adequate minimum wage, at the Federal Secretariat in Abuja on Tuesday… Read more »

Nigeria: Nigerian Universities' Union, ASUU Begins Indefinite Strike

Daily Trust, 5 November 2018

The Academic Staff Union of Universities, ASUU has commenced a nationwide industrial action today. Read more »

Nigeria: Minimum Wage - Who's Afraid of Federalism?

Guardian, 5 November 2018

The statement by the organised labour last week, that it would take nothing less than N30,000 as the new minimum wage is misleading and unconvincing, just as its threat to vote out… Read more »

Nigeria: NANS Supports Labour Planned Strike

Daily Trust, 5 November 2018

The National Association of Nigerian Students (NANS) have backed the organised labour demand for a new national minimum wage of N30, 000. Read more »

Nigeria: New Minimum Wage - We're Unaware of Any Court Judgment, Strike Inevitable - NLC

Daily Trust, 5 November 2018

The Nigeria Labour Congress, NLC, has insisted it will embark on a nationwide strike over the non-implementation of N30, 000 as the new national minimum wage, despite the National… Read more »

Nigeria: Govt's Information Agencies Groan Under Poor Funding

Daily Trust, 5 November 2018

Federal information agencies are bogged down by inadequate funding, obsolete equipment, and poorly remunerated manpower despite their statutory roles of communicating government… Read more »

Nigeria: Nigerian Petroleum and Gas Workers' Body, NUPENG Yet to Decide On Strike

Daily Trust, 5 November 2018

The Nigeria Union of Petroleum and Natural Gas Workers, NUPENG has said it has not made a decision either to join the nationwide industrial action declared by the Nigerian Labour… Read more »

Nigeria: NLC Strike - No Need for Panic Buying of Petrol - NNPC

Daily Trust, 5 November 2018

The Nigerian National petroleum Corporation (NNPC) has assured motorists that it has adequate petroleum products that will serve the nation, irrespective of the proposed strike by… Read more »

Nigeria: Labour Again Shun Meeting With Govt On Minimum Wage

Vanguard, 4 November 2018

Organised labour last night shunned meeting organised by the Federal Government to resolve the impasse on the new minimum wage. Read more »

Nigeria: Minimum Wage - Why We Can't Meet Labours' Demands - Nigerian Govt

Premium Times, 5 November 2018

The federal government on Sunday gave reasons why it cannot meet the demand of labour unions that the national minimum wage be increased to N30,000. Read more »

Nigeria: Labour Under Pressure to Shelve Planned Strike

Leadership, 5 November 2018

Organised Labour comprising the Nigeria Labour Congress (NLC), Trade Union Congress (TUC) and United Labour Congress (ULC) is under severe pressure from the federal government to… Read more »

Nigeria: NNPC Assures Fuel Availability Despite Looming Labour Strike

Daily Trust, 4 November 2018

The Nigerian National Petroleum Corporation (NNPC) has dispelled insinuations of an impending petroleum products scarcity in the country. Read more »

Nigeria: Minimum Wage - Ignore Court Order, Go Ahead With Strike, Civil Society Group Tells Labour

Premium Times, 4 November 2018

A civil society group, Joint Action Front (JAF), said on Sunday it was in support of the new N30,000 minimum wage proposed by organised labour while accusing the government of… Read more »
InFocus
The governors of Nigeria's 36 states have said they can only pay U.S.$62 as new minimum wage as opposed to the U.S.$82 being demanded by organised labour. Labour unions had ... Read more »