We Still Have Work To Do - Kagame on AU Reforms
The 11th Extraordinary Session of the African Union Summit, focusing on institutional reform, ended on November 18, with Rwandan President and Chairperson of the AU Paul Kagame saying at the closing ceremony that the adoption of the reforms did not necessarily mean an end to the process. Heads of State and Government adopted a number of key reforms which could potentially boost the efficiency of the organisation.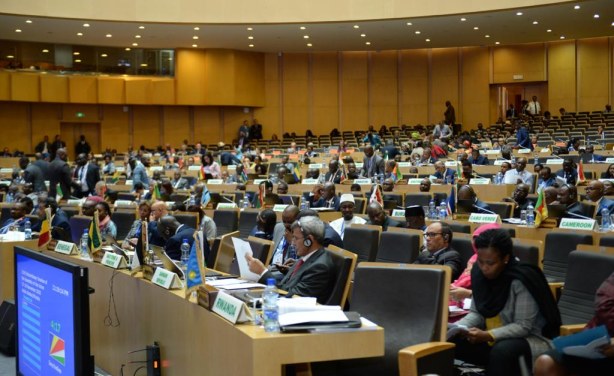 Delegates at the Extraordinary Summit on African Union reforms.
Africa: AU Wants to Top Up Its Kitty in Overall Reform Bid

Deutsche Welle, 19 November 2018

African Union chairperson Paul Kagame is pushing its 55 members to pay their dues as part of his bid to steer reform of the donor-dependent body. DW asked Nigerian political… Read more »

Africa: AU Reforms Not an End but a Means - Kagame

New Times, 19 November 2018

President Paul Kagame has said that the adoption of the African Union reforms does not necessarily mean an end to the process, calling for speedy implementation of the reforms by… Read more »

Africa: Zimbabwe's President Urges Continent to Fight Corruption

The Herald, 19 November 2018

President Mnangagwa yesterday said it is necessary for all African countries to fight corruption within their respective jurisdictions, as the recent launch of a Continental Free… Read more »

Africa: 11th Extraordinary Summit Summary of Key Decisions

African Union, 18 November 2018

18 November 2018 - The 11th Extraordinary Session of the African Union Summit, focusing on institutional reform of the African Union, was held in Addis Ababa from 5th to 18th… Read more »

Kenya: Kenya Welcomes Appointment of Seychelles Leader as AU Champion for Blue Economy

Capital FM, 18 November 2018

Kenya has welcomed the appointment of Seychelles President Danny Faure as the African Union champion for the Blue Economy. Read more »

Rwanda: African Union Needs to Be Stronger - Kagame

New Times, 17 November 2018

President Paul Kagame opened the 11th African Union Extraordinary Summit on AU Reforms with a keynote speech that celebrated the progress of the reforms while reminding the… Read more »
InFocus
The African Union-directed African Standby Force has not been deployed since its establishment in 2003. This is despite the AU's extensive experience with peace support operations ... Read more »
InFocus
The problems of the African continent appear too vast for regional solutions alone. But this reality does not mean that the ambition of finding African solutions to African ... Read more »

Ever-increasing violence in Cameroon, the readmittance of Morocco and what it means, the crisis in the Sahel, and renegotiating the peace missions in Africa combined with ... Read more »

The African Union continues to play an important role in enforcing peace and security on the continent, but the political momentum is shifting toward "coalitions of the willing" ... Read more »