Museveni Stands Firm on Probe Into Bank of Uganda
President Yoweri Museveni has rejected attempts by cabinet to stop the parliamentary probe into operations at the Bank of Uganda. He said the bank's officials "lied" to him about the financial position of the seven commercial banks, some of which were closed over 20 years ago and whose assets are still unaccounted for.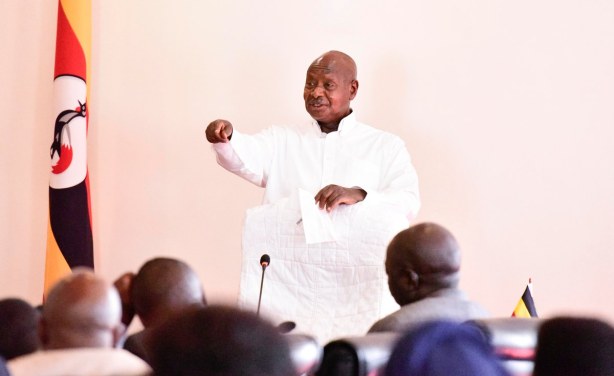 Uganda President Yoweri Museveni (file photo).
Uganda: BoU Officials Contradict Each Other Over Asset Reports for Closed Banks

Monitor, 22 November 2018

Bank of Uganda officials were on Tuesday grilled on how the value of assets of three closed commercial banks was reduced from Shs117b to Shs98b after the Central Bank took over the… Read more »

Uganda: Museveni Rejects Move to Halt Bank of Uganda Investigation

Monitor, 5 December 2018

President Museveni on Monday rejected attempts by Cabinet to halt the ongoing parliamentary probe into the operations of Bank of Uganda (BoU) and the circumstances that prompted… Read more »

Uganda: BoU Security Assistant Remanded Over Disappearance of Closed Banks Documents

Monitor, 4 December 2018

Bank of Uganda security assistant has been charged with negligence leading to the disappearance of closed banks documents. Read more »

Uganda: BoU Documents - MPs Order Arrest of Bagyenda's Aides

Monitor, 30 November 2018

The parliamentary committee investigating the closure of commercial banks yesterday ordered police to arrest the bodyguard and driver of Ms Justine Bagyenda, the former executive… Read more »

Uganda: Go to Court, BoU Tells Off Ex-Crane Bank Workers

Monitor, 30 November 2018

A Bank of Uganda (BoU) has told off former Crane Bank staff who lost their jobs during the bank's liquidation to dfcu Bank that the central bank is ready for a legal battle should… Read more »

Uganda: Missing BoU Reports - CCTV Footage Pins Bagyenda

Monitor, 29 November 2018

A report by a Parliamentary sub-committee has concluded that Ms Justine Bagyenda, Bank of Uganda's former Executive Director for Supervision, used her "status" to reject security… Read more »

Uganda: BoU Probe - Bagyenda Aides Arrested

Observer, 29 November 2018

The parliamentary committee on Commissions, Statutory Authorities and State Enterprises (Cosase) today ordered for the arrest of two aides to Justine Bagyenda, the former executive… Read more »

Uganda: BoU Security Director Links Bagyenda to Missing Reports

Monitor, 28 November 2018

The troubles of Ms Justine Bagyenda, the former director of supervision at Bank of Uganda, yesterday deepened further after Mr Milton Opiyo, the Central Bank's security director,… Read more »

Uganda: BoU-Sudhir Hearing Pushed to January 21

Monitor, 23 November 2018

The High Court has postponed the hearing of three cases in the multibillion dispute between Bank of Uganda (BoU) and city businessman Sudhir Ruparelia to next year. Read more »

Uganda: Fixing Bank of Uganda

Independent (Kampala), 19 November 2018

What would you say if you saw President Yoweri Museveni and embattled Bank of Uganda Governor Tumusiime Mutebile in a meeting at this time? What if that meeting, which in fact… Read more »

Uganda: Five On the Run After Dropping Piglets At Bank of Uganda

Monitor, 5 November 2018

Police are searching for five people suspected to have dropped two piglets at Bank of Uganda (BoU), Kampala. Read more »
InFocus
A parliamentary committee is investigating the Bank of Uganda for alleged irregularities in the closure of seven commercial banks, some of which were shut down 20 years ago. Also ... Read more »