Senegal Signs U.S.$550 Million Power Deal with U.S. Govt Agency
The U.S. government's Millennium Challenge Corporation and the Senegalese government have signed a new five-year U.S.$550 million power deal. Senegal will contribute an additional $50 million to the compact, bringing the total program to $600 million. The Senegal Power Compact is expected to benefit over 12 million people and consists of three projects, including a project which aims to increasing access to electricity in rural and peri-urban areas.
Senegal: U.S., Senegal Sign New Power Compact

USMCC, 10 December 2018

The U.S. Government's Millennium Challenge Corporation (MCC) and the Government of Senegal today signed the new five-year $550 million MCC Senegal Power Compact. Read more »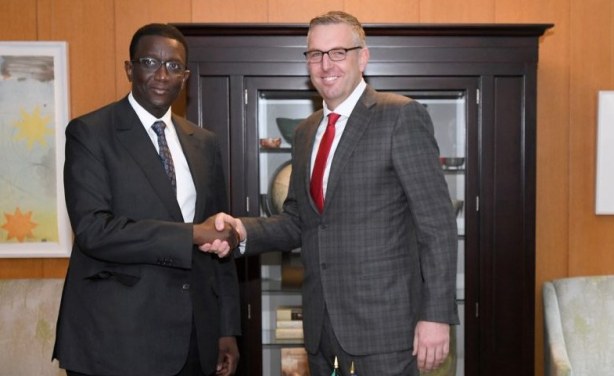 MCC COO and Head of Agency Jonathan Nash and Senegalese Minister of Economy, Finance and Planning Amadou Ba shake hands during the ceremony to mark the signing of the MCC Senegal Power Compact at the State Department.