Will Global Compact Address Migration Challenges?
"The global compact for migration is the first, intergovernmentally negotiated agreement, prepared under the auspices of the United Nations, to cover all dimensions of international migration in a holistic and comprehensive manner", says the UN after member states signed the agreement at a meeting in Morocco.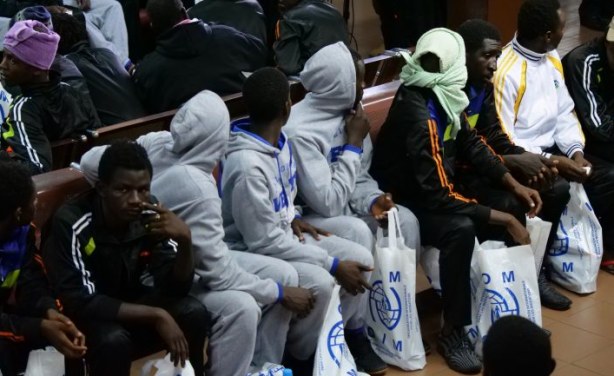 Migrants receiving assistance from the IOM in Senegal (file photo).
Africa: UN Remains Defiant Amid Last Minute U-Turns On Global Compact for Migration

IPS, 10 December 2018

Amidst negative sentiments and last-minute withdrawals from the Global Compact for Safe, Orderly and Regular Migration (GCM) by some member countries, the United Nations says the… Read more »

Africa: The Global Compact for Migration - What Happened? and What's Next?

Thomson Reuters Foundation, 11 December 2018

On December 10th, under a purpose-built tent in Marrakesh, Morocco, representatives from more than 150 countries affirmed their shared vision of a future in which migration is safe… Read more »

Africa: A Migrant Turned Saviour of Others

IPS, 11 December 2018

Seven years ago, when Cameroon began experiencing inter-regional conflict, Armand Loughy, a 55-year old Cameroonian psychiatrist, strapped her youngest child on her back and with… Read more »

Africa: Towards a Safe and Orderly Migration

Africa Renewal, 7 December 2018

A global migration compact may help combat the myth that migrants are liabilities Read more »

Africa: Intergovernmental Conference On Global Compact for Migration Kicks Off in Marrakech

MAP, 10 December 2018

The Intergovernmental Conference on the Global Compact for Migration opened Monday in Marrakech, in the presence of the UN Secretary-General, Antonio Guterres, and several heads of… Read more »

Africa: African Migration - No Crisis, but Regional Integration Needed

Economic Commission for Africa, 9 December 2018

Is the world witnessing an African migration crisis? Recent facts contradict many widespread perceptions shaped by recent media coverage. Both countries of origin and countries of… Read more »

Africa: Tackling Migration - - an African Perspective

Deutsche Welle, 7 December 2018

Against the backdrop of the UN's Global Compact on Migration, the mayor of one African capital says local leadership must play a key role. It's time to listen to mayors, says… Read more »

Africa: Will Next Week's Migration Compact Be Global?

ISS, 6 December 2018

The Global Compact for Safe, Orderly and Regular Migration (GCM) is a comprehensive document that covers different aspects of migration and provides a strong basis for global… Read more »

Africa: Marrakech - ECA to Hold Event On Operationalizing the Global Compact On Migration in Africa Through Data and Research

Economic Commission for Africa, 7 December 2018

The dearth of empirical data on African migration has resulted in programmatic and policy responses that are based on negative public perceptions rather than an understanding of… Read more »

Africa: UN Regional Commissions' Role in the Follow-Up and Review of the Global Compact On Migration to Be Showcased in Marrakech

Economic Commission for Africa, 6 December 2018

UN Regional Economic Commissions will convene a panel discussion on, 'Regional priorities, opportunities, and challenges: Prospects for achieving the objectives of the Global… Read more »
InFocus
Over a decade from the mid-2000s, about 64,000 Africans - mainly from conflict-torn Sudan and Eritrea - arrived in Israel across the then-porous border with Egypt's Sinai, which ... Read more »

Doctors Without Borders and its partner SOS Mediterranee have been pressured by the European Union to put their ship, the Aquarius, into dry dock and abandon their life-saving ... Read more »

Abike Dabiri-Erewa, the Senior Special Assistant on Foreign Affairs and Diaspora, has said that 116 Nigerian migrants have been processed for repatriation back to Nigeria - but 24 ... Read more »