ANC Has Plan to Grow South Africa's Economy - Ramaphosa
President Cyril Ramaphosa has launched the African National Congress's 2019 election manifesto, promising to put job creation, investment and decent living for workers at the centre. Ramaphosa appealed to South Africans to give the party another five years to govern, saying they have learned from their mistakes.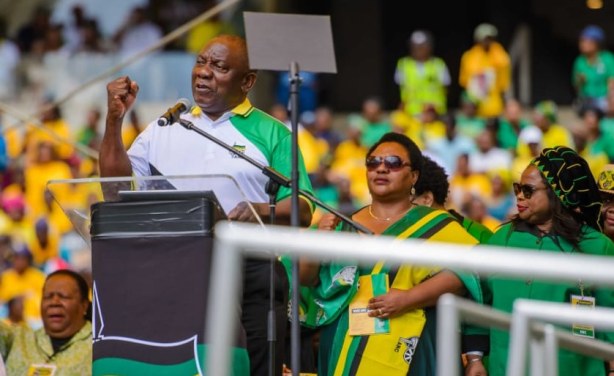 President Cyril Ramaphosa addresses ANC supporters at the governing party's election manifesto launch at Durban's Moses Mabhida Stadium on 12 January 2019.
South Africa: ANC Has Plan to Grow the Country's Economy - Ramaphosa

News24Wire, 12 January 2019

President Cyril Ramaphosa has said the ANC has a plan to raise R1.2 trillion in new investments over the next five years. Read more »

South Africa: Ramaphosa Sets Out a Bold Vision for South Africa. but Can He Pull It Off?

The Conversation Africa, 13 January 2019

As South Africa heads for the polls in a few months time in its sixth democratic election, political party electioneering has begun in earnest. Read more »

South Africa: Ramaphosa Draws the Sword On the Enemy Within

Daily Maverick, 13 January 2019

ANC president Cyril Ramaphosa lays down the law to civil servants for poor service and for doing business with the state -- but can he stare down the big men of the civil service… Read more »

South Africa: Ramaphosa Wants Everyone to Help Grow South Africa

News24Wire, 12 January 2019

In keeping with his January 8 statement and gala dinner address, President Cyril Ramaphosa emphasised the importance of rebuilding South Africa's economy and the state's capacity… Read more »

South Africa: Ramaphosa Promises an ANC Manifesto That Will 'Build a People's Economy'

News24Wire, 12 January 2019

Great strides have been made in South Africa over the past two decades under the ANC's leadership. This is part of the message President Cyril Ramaphosa will deliver on Saturday… Read more »

South Africa: DA Reacts to ANC's 2019 Election Manifesto

News24Wire, 12 January 2019

The DA says promises made by President Cyril Ramaphosa during his address at the party's election manifesto launch showed no sense of urgency. Read more »

South Africa: Ramaphosa - Factionalism and Patronage Have Diminished ANC's Ability to Lead Transformation Process

News24Wire, 12 January 2019

Factionalism and patronage have diminished the ability of the ANC to lead the process of transformation and fulfil its mandate to the people, party president Cyril Ramaphosa said… Read more »

South Africa: 7 Key Pointers to Look Out for in Ramaphosa's Speech

News24Wire, 12 January 2019

The ANC's January 8th statement informs the governing party's plans for the coming year and sets the tone for the State of the Nation Address in February. Read more »

South Africa: Mbeki to Miss ANC Manifesto Launch

News24Wire, 11 January 2019

Former president Thabo Mbeki will not be attending the ANC's manifesto launch in Durban on Saturday, the ANC confirmed on Friday. Read more »