Boost for South African Probe Into Esidimeni Tragedy
President Cyril Ramaphosa has signed an amended proclamation to broaden the terms of reference of the Special Investigating Unit's probe into the Life Esidimeni tragedy, a move welcomed by the African National Congress and the Democratic Alliance in Gauteng. 143 mental health patients died after they were moved from the Life Esidimeni facility to 27 unlicensed NGOs during 2015.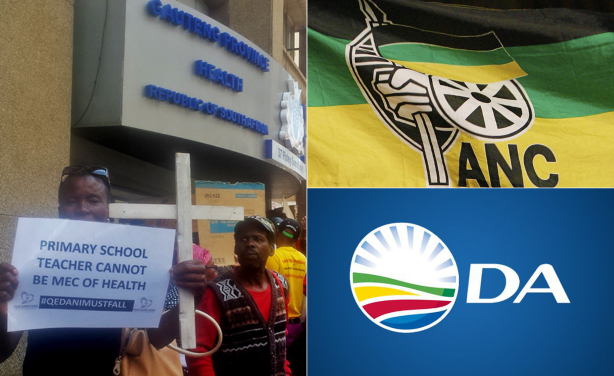 Left: Angry families protest over Life Esidimeni deaths scandal outside the Gauteng health department offices in Johannesburg (file photo). Top-right: African National Congress flag. Bottom-right: Democratic Alliance flag.
InFocus
Elections are coming and the African National Congress (ANC) in Gauteng needs to promote its successes, but it can't escape the Life Esidimeni debacle, writes Greg Nicolson for The ... Read more »

Qedani Mahlangu, the former health MEC responsible for South Africa's Life Esidimeni tragedy in which over 140 mental health patients died after being transferred to unlicensed ... Read more »