Nigeria Activates Emergency Response Over Lassa Outbreak
The Nigeria Centre for Disease Control says Nigerians need not panic over the rising cases of Lassa fever as it has initiated measures in response to the disease in the country. At least 60 confirmed cases have been reported in eight states since early January. The viral disease is contracted from the feaces of the multi-mammate rat and often transmitted via human to human contact.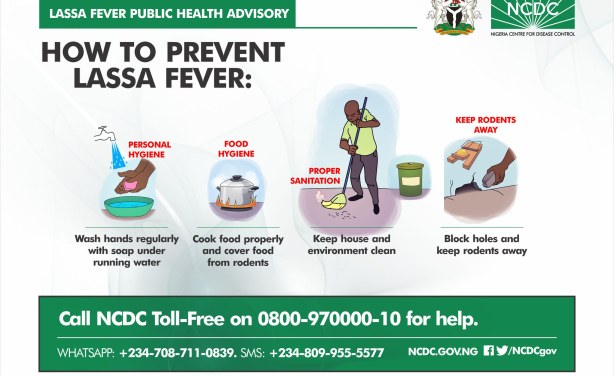 Lassa fever public health advisory.
Nigeria: Lassa Fever Outbreak - Resident Doctors to Partner Govt

Leadership, 28 January 2019

In an effort to combat the recent outbreak of Lassa Fever across the country, the National Association of Resident Doctors (NARD) has announced plans to partners the federal… Read more »

Nigeria: WHO Scales Up Lassa Fever Response in Affected States

WHO, 1 February 2019

The World Health Organization (WHO) is scaling up response to the Lassa fever outbreaks in states across Nigeria to strengthen rapid containment of the disease. WHO is mobilizing… Read more »

Nigeria: Another Lassa Fever Outbreak

Daily Trust, 28 January 2019

The Nigeria Centre for Disease Control, NCDC, last week Tuesday January 22, 2019 confirmed 16 deaths from 60 cases of Lassa fever even as 590 out of 593 contacts are currently… Read more »

Nigeria: Lassa Fever - Plateau Records 5 Deaths, 17 Confirmed Cases

Guardian, 27 January 2019

Plateau has recorded 17 confirmed cases of Lassa Fever with five persons killed, according to Dr Kunden Deyin, the state's health commissioner. Read more »

Nigeria: Lassa Fever Claims Two Lives in Ebonyi

Premium Times, 26 January 2019

Ebonyi State government has confirmed the death of two persons in recent Lassa fever outbreak in the state this year. Read more »

Nigeria: Lassa Fever Kills Four in Plateau

Premium Times, 24 January 2019

Four people have died of Lassa fever in Plateau State. Read more »

Nigeria: Nigeria Declares Lassa Fever Outbreak, Activates Emergency Response

Premium Times, 22 January 2019

Nigeria on Tuesday declared a Lassa Fever outbreak in the country. Read more »

Nigeria: Alert! Govt Confirms Lassa Fever Outbreak in 8 States

Leadership, 23 January 2019

Following the confirmation at least 60 cases of Lassa fever, the Federal Government has raised the alarm and activated emergency response centres. Read more »

Nigeria: Don't Panic Over Lassa Fever, Centre Urges Nigerians

Vanguard, 23 January 2019

The Nigeria Centre for Disease Control (NCDC) says Nigerians need not panic over the rising cases of Lassa fever because it has initiated measures in response to the disease in the… Read more »

Nigeria: 4,000 Infected With Lassa Fever Yearly in Nigeria

This Day, 23 January 2019

A medical practitioner and consultant at Irrua Teaching Hospital, Dr. Abubakar Muhammed, has said that Lassa fever infected 4,000 persons in Nigeria, noting that there was need for… Read more »
InFocus
The vast majority of transmission is through rats, millions of which proliferate in parts of West Africa where clean water, toilets and sanitary sewage systems are lacking. ... Read more »