Nigeria's Boko Haram Violence Intensifies, Thousands Displaced
Since November 2018, there has been a steep increase in the number of people displaced in north-east Nigeria. At least 59,000 people, mainly women and children, have been forced to flee Boko Haram militants and other armed groups in Borno State, the heart of the displacement crisis.
Nigeria: Nigerians Seek Safety in Cameroon As Boko Haram Crisis Escalates

IRIN, 7 February 2019

A wave of increasingly sophisticated militant attacks in northeastern Nigeria has forced almost 60,000 people to flee since November, the largest number for more than two years,… Read more »

Nigeria: The Corpses Were Lying On the Streets - Refugees Flee Boko Haram

Thomson Reuters Foundation, 6 February 2019

Seconds after glimpsing Boko Haram gunmen leap out of vehicles brandishing weapons in the town of Rann, Nigeria, Abdul, 45, rushed inside the medical clinic where he worked. Read more »

Nigeria: North-East Nigeria Displacement Crisis Continues Amid 'Increased Sophistication' of Attackers, Warns UN

UN News, 5 February 2019

An upsurge in violent attacks in crisis-riven north-east Nigeria has displaced nearly 60,000 people in the last three months, the UN migration agency, IOM, said on Tuesday. Read more »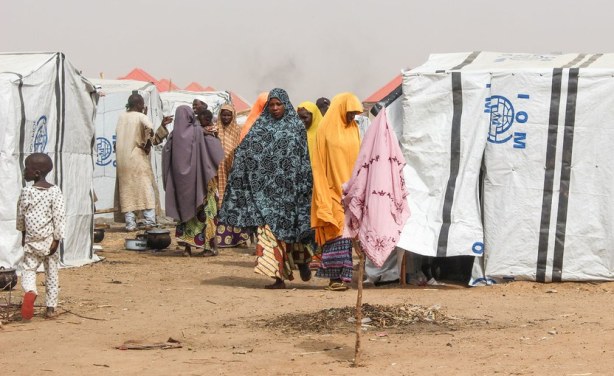 Gubio Camp in Maiduguri has received 4,500 new arrivals since November 2018, many of them in recent weeks following an attack by non-state armed groups in Baga, near the shores of Lake Chad, in north-east Nigeria.
Nigeria: Displacement Escalates in Northeast as Violence Intensifies

VOA, 6 February 2019

The International Organization for Migration is appealing for $66 million to respond to an escalating displacement crisis, in northeastern Nigeria, which has left tens of thousands… Read more »

Nigeria: Boko Haram Attacks Worsen Since November

Premium Times, 6 February 2019

The International Organisation for Migration (IOM) says an upsurge in violent attacks in crisis-ravaged North-east Nigeria has displaced 59,200 people in the last three months. Read more »

Nigeria: No Town Under Boko Haram's Control - Army

Leadership, 6 February 2019

The Theatre Command "Operation LAFIYA DOLE" has described as false, a report by an online medium alleging that Boko Haram terrorists had taken over four towns in Adamawa State. Read more »

Nigeria: Govt Lying About Reclaiming Baga from Boko Haram - Fleeing Residents

Premium Times, 5 February 2019

Displaced residents of Baga, a border community in Borno State recently taken over by the Boko Haram insurgents, said the Nigerian government is lying in the claims that the town… Read more »

Nigeria: Residents Flee Marwa's Hometown Over Fresh Boko Haram Attack

Guardian, 6 February 2019

Unknown number of terrorists and two soldiers sustained injuries when troops of Operation Lafiya Dole clashed with Boko Haram terrorists at a military base in Kannama, Yobe State,… Read more »
InFocus
The United Nations High Commission for Refugees has said that at least 30,000 people fled the Nigerian town of Rann amid fears of renewed attacks by Boko Haram militants. The ... Read more »

The military had repeatedly denied that Boko Haram captured Baga after dislodging soldiers of the Nigeria military, including those of the Multi National Joint Task Force. But in ... Read more »