Egyptian President Al-Sisi Takes Over as AU Chairperson
Rwandan President Paul Kagame has handed the African Union chairmanship over to his Egyptian counterpart Abdel Fattah al-Sisi. The ceremony was the climax of the organisation's 32nd Ordinary Session, in which heads of state and government met in Addis Ababa, Ethiopia. Kagame expressed confidence that his successor would take the AU to greater heights.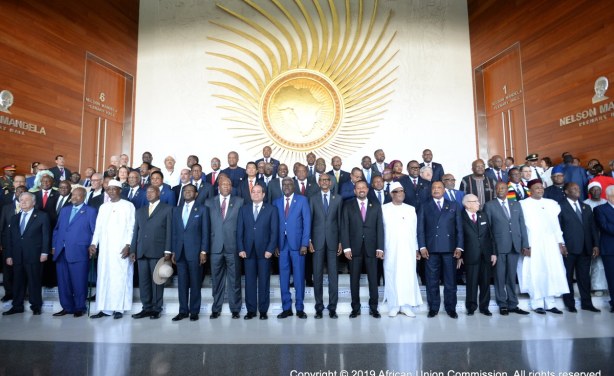 Heads of State and Government of the 55 African countries in the African Union begin the organisation's 32nd ordinary session in Addis Ababa.
Africa: We Must Face the World as a Unified Bloc, Kagame Urges Leaders

New Times, 11 February 2019

President Paul Kagame has called for consistency in the African Union's reform process, urging leaders not to be fearful of change as it would be counterproductive. Read more »

Africa: AU Must Fund Itself, Says Zimbabwe's President Mnangagwa

The Herald, 11 February 2019

THE 32nd Ordinary Session of the African Union Assembly kicked off yesterday with President Mnangagwa challenging member states to equally share the burden of funding the… Read more »

Africa: Egyptian President Abdel-Fattah El-Sissi Takes Over as AU Chair

Deutsche Welle, 10 February 2019

After being suspended from the African Union in 2013, Egypt is seeking to enhance its standing in Africa. Egypt's focus is on security, trade and migration. Read more »

Africa: The 32nd AU Heads of State and Government Summit Kicks Off

African Union, 10 February 2019

The supreme organ of the African Union (AU), the Assembly, which comprises Heads of State and Government of all the 55 African countries, has begun its 32nd ordinary session. The… Read more »

Africa: African Union Seeks 'Durable Solutions' to Continent's Refugee Crisis

Deutsche Welle, 9 February 2019

Many people who flee from crisis situations are unable to leave their own countries. DW journalists have analysed Africa's refugee crises: Internally displaced people are the most… Read more »

Africa: Kenyatta Calls for Increased Private Sector Participation Health Sector

Capital FM, 9 February 2019

President Uhuru Kenyatta has called for increased partnerships between national governments and the private sector in the provision of health services in Africa. Read more »
InFocus
After the AU's decision to designate 2019 as the Year of Refugees, Returnees and Internally Displaced Persons, there is now a move to shift the issue from Political Affairs to a ... Read more »

The deputy chairperson of the African Union Commission has launched an unprecedented attack on his boss, chairperson Moussa Faki Mahamat, South Africa's Mail & Guardian newspaper ... Read more »